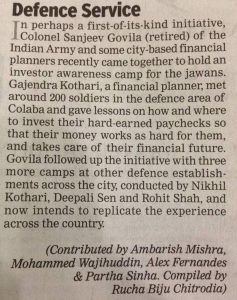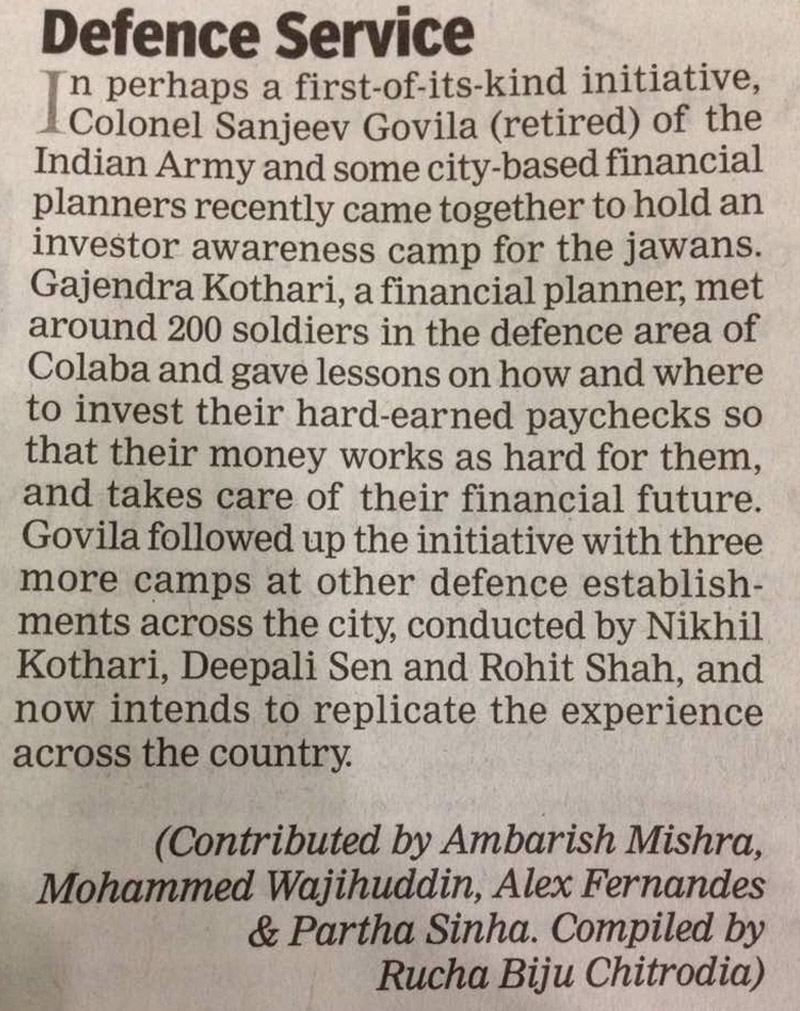 FINANCIAL LITERACY among DEFENCE PERSONNEL
Hum Fauji Initiatives is tying up with good and ethical civilian financial planners across the country to conduct financial literacy lectures. Col Sanjeev Govila (retd) is personally coordinating and giving them ppt, ensuring the quality material is reaching maximum defence employees and tying up with units and formations to conduct such lectures. Civilian planners are doing it out of love and respect for fauj and we are lovingly investing the time & effort in working on the part of Col Govila and his team. Our CEO is very particular that no business angle or marketing gets in here when such lectures are conducted.
So far, collectively we have conducted 4 lectures in Mumbai for serving Jawans and one in Kolkata on 30th May, 2017 for retiring Jawans. Will be sharing the photos soon in Gallery section. We are working constantly to take it to other places in rest of India.

SCHOLARSHIPS
'Hum Fauji Initiatives' has instituted an yearly education scholarships for needy children of Army's demised OR (Other Ranks). The most important criterion will be financial need of deserving candidates who would otherwise not be able to study at the college or will have difficulty in pursuing their college studies if this scholarship is not made available to them. Currently, we're only considering families of Indian Army OR (Other Ranks – Sepoy, Naik & Havildar and their equivalents within Indian Army). Scholarship will be granted only for Graduation and not for schooling, Junior College or Post Graduation.
To know more about it, write to contactus@humfauji.in
Download Application Forms for Education Scholarship of the year 2017. Download Here