PAN INDIA FINANCIAL LITERACY CAMPAIGN for JAWANS, SAILORS and AIRMEN
30 Nov 2021
Our years of effort have fructified now. The Pan-India Financial Literacy Campaign for Jawans, Sailors and Airmen was launched last week!
Would you like your men to benefit from this free campaign by us, conducted in your respective locations across the country?
What is it?
Hum Fauji Initiatives, along with 18 more financially savvy veterans (acting as the financial literacy trainers), with an avowed aim of making the Indian armed forces (Indian Army, Navy and Air Force) financially savvy and knowledgeable, is conducting financial literacy programs all across the country.
Why are we doing it?
It is simply in the spirit of giving back to the fauji community since we all have got so much all our lives from this fabulous organization and community.
What is Hum Fauji or the volunteer veterans getting out of it?
A sense of satisfaction is the only thing we all aim for. Nothing will give us more pleasure than the fact that our Jawans, Sailors and Airmen (PBOR – Personnel Below Officer Rank) have benefited from our knowledge and efforts which would help them take prudent financial decisions and lead them towards a better life for their families in times to come.
More about it
This initiative was being planned over the past 4 years and has now been rolled out from 22 Nov 2021 onwards with three workshops in Bhopal, one in Delhi and two in Sagour done last week.
Brig MC Pant (retd) has conducted Three Workshops in Bhopal at 3 EME Centre, and Two in Saugor (MP) at Mahar Regimental Centre. A total of 991 PBOR attended these workshops with Q&A sessions lasting upto 2 hours.
Col Mukesh Chopra (retd) conducted One session at Station Workshop EME, Delhi Cantt and 76 PBOR benefitted from his knowledge and financial expertise.
In both the cases, we have received excellent feedback from the units about the utility of this campaign to their men, further strengthening our belief that these initiatives from us are hugely required by the armed forces.
The tempo has started now and your unit/organization can also benefit from it, if you wish to do good to your PBOR. The Trainers, all specially trained retired armed forces officers, located at various places across the country, are all rearing to go ahead.
L&T Mutual Fund Company is funding the entire budget from their IAP (Investor Awareness Program) budget which is a mandatory budget required to be spent by them every year as per SEBI rules. However, our aim is to benefit our men and we will be doing not even a cursory bidding for anybody – L&T, Hum Fauji or anybody else.
And what do we require from you? Any cost to you?
You only have to make administrative arrangements for reception of the training team (1-3 persons), their stay in a decent accommodation in officer's mess, arrangements for conduct of the workshop (place, projection system, audio-video, seating etc), local movement as required for the workshops and finally dropping them off for departure. If you can also cater for their meals too, that would be good since we all are working on shoe-string budgets. Literally, there is no other cost to you for doing this good to your men.
Each workshop of 2-3 hours will be conducted typically for a minimum of 100 and maximum of 150 PBOR. Please decide how many workshops you wish to be conducted in your organisation. They will be conducted at your location(s).
If you want to get it done for your PBOR, how do you go ahead?
Please go to this link https://forms.gle/gYv4Pz4eq124vbsAA and fill in your requirement in the form that shows up. Once you have done that, please let us know by whatsapping back on 9999 053 522 that it has been done. We will take it ahead from there.
Look forward to your help in this unique and noble mission by us.
In case of any queries or doubts, please revert to us at Hum Fauji on phone to Divaykshi, Asst Manager, on her official phone number 9999 053 522 or to Nimisha on 9999 828 923 or on landline 011-4081 4681 Extn 222. These phone numbers are available during working hours [9.30am – 6pm, Mon – Sat, 2nd and 4th Sat off].
Team Hum Fauji Initiatives, New Delhi.
www.humfauji.in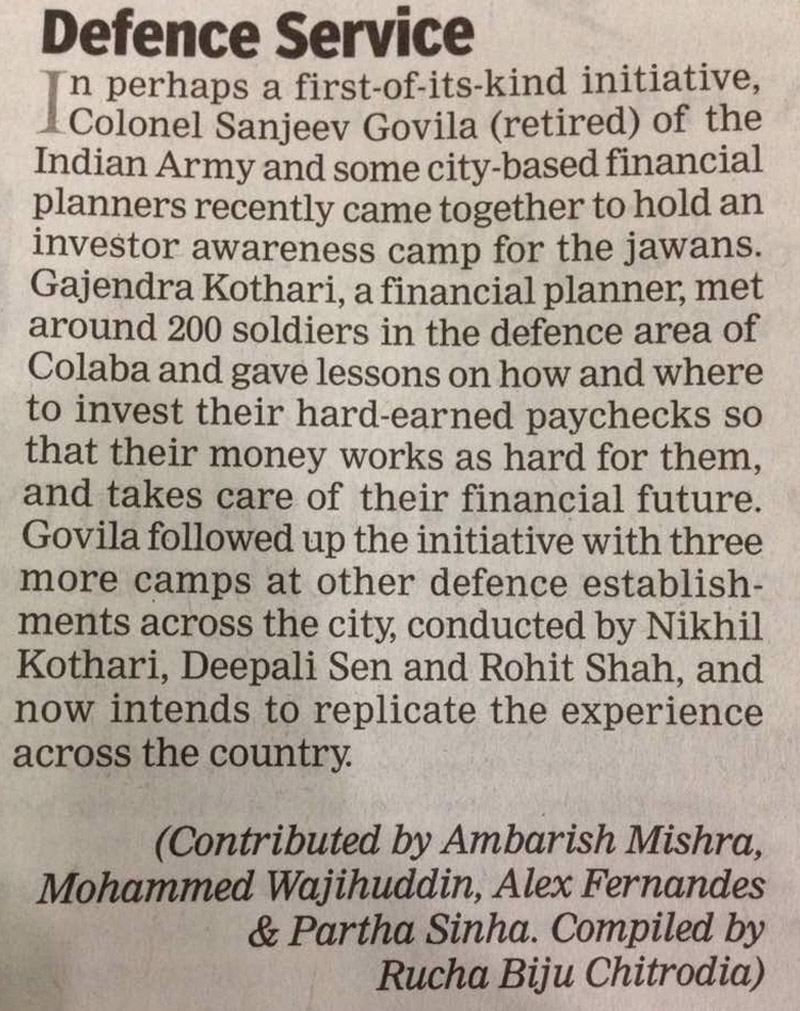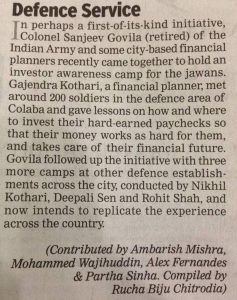 FINANCIAL LITERACY among DEFENCE PERSONNEL
Hum Fauji Initiatives is tying up with good and ethical civilian financial planners across the country to conduct financial literacy lectures. Col Sanjeev Govila (retd) is personally coordinating and giving them ppt, ensuring the quality material is reaching maximum defence employees and tying up with units and formations to conduct such lectures. Civilian planners are doing it out of love and respect for fauj and we are lovingly investing the time & effort in working on the part of Col Govila and his team. Our CEO is very particular that no business angle or marketing gets in here when such lectures are conducted.
So far, collectively we have conducted 4 lectures in Mumbai for serving Jawans and one in Kolkata on 30th May, 2017 for retiring Jawans. Will be sharing the photos soon in Gallery section. We are working constantly to take it to other places in rest of India.

SCHOLARSHIPS
'Hum Fauji Initiatives' has instituted an yearly education scholarships for needy children of Army's demised OR (Other Ranks). The most important criterion will be financial need of deserving candidates who would otherwise not be able to study at the college or will have difficulty in pursuing their college studies if this scholarship is not made available to them. Currently, we're only considering families of Indian Army OR (Other Ranks – Sepoy, Naik & Havildar and their equivalents within Indian Army). Scholarship will be granted only for Graduation and not for schooling, Junior College or Post Graduation.
To know more about it, write to contactus@humfauji.in
Download Application Forms for Education Scholarship of the year 2017. Download Here