Income Tax

Dear Sir/Mam,
Here are the details for Income Tax Return (ITR) filing service @ HFI Wealth Creators Pvt.Ltd. This emailer gives out the important points to be kept in mind while availing this service from us so that an accurate ITR is filed for you at the earliest. In addition our charges for various types of ITRs, how to go ahead from here and the special service for our larger investment clients are also detailed below.
The details below gives out the important points to be kept in mind while availing this service from us so that an accurate ITR is filed for you at the earliest. In addition our charges for various types of ITRs, how to go ahead from here and the special service for our larger investment clients are also given in the mail below.
Please download the two word files here containing the details of information required for filing the ITR for the FY 2017-18 (i.e. for the income earned during the period 01.04.2017 to 31.03.2018). We request you to go through the attached word files and send us the duly filled sheets on the email ID incometax@humfauji.in at the earliest so that the ITR filing is not delayed.
Following are the important aspects to be kept in mind while subscribing to this service through us:-
The email ID for correspondence with us for ITR filing will be incometax@humfauji.in.
Please correspond with us through emails only. Please remember that ITR filing period is a very busy period for us with a large number of ITRs to be processed in a limited time. Please contact us on phone or physically visit us for ITRs ONLY if it is an EMERGENCY.
We request you to send complete documents to us at one go, not in bits & pieces, and at the very earliest. We file ITRs on first-come-first-served basis only. Also, we will process your ITR filing only after we have received your filing fee.
Income Tax Dept. also processes ITRs and refunds on first-come-first-served basis only. Hence, the need to send us your documents at the earliest.
We prefer all information through email and documents in scanned form. Please send us physical documents ONLY if it is wholly unavoidable.
Form 16 is compulsory to be sent for Income Tax Return (ITR) Filing, if you are salaried or retired and getting pension. ITR cannot be filed without Form 16, if you are salaried or getting pension. The Form 16 will be given by your employer if you are working and by your Bank if you are getting a pension. There could be multiple Form 16 also, eg if you are re-employed and also getting a pension, there would be two Form 16.
If you are filing ITR through us for the first time, we would compulsorily require your Income Tax website password if you have already created your account on IT website.
Last date for filing ITR is 

31 July 2018

. It would be difficult for us to file your ITR in time if we receive your documents after

15 July 2018

. Please also remember that, if your ITR is not filed by 

31 July 2018

, there would be a penalty to be paid by you to Income Tax Dept. from this year onwards. Hence, the option of filing the ITR late is no longer available to you anymore.
If your total income during FY 2017-18 is more than Rs 50 Lakhs, there would be a need to file your Asset-Liability report also. We will let you know if it is required in your case.
Charges
We would be filing the Income Tax Returns online for our customers and the charges would be as below. The charges are only indicative and may be increased if we find that there is much more work required on your ITR filing than generally visualized in charges below. Also, the charges indicated below are only for filing the ITR. There may be separate charges in case you would want us to undertake subsequent rectifications or any other ITR related work:-
How to go ahead with your Income Tax Filing
Very simply, follow the steps as given below:-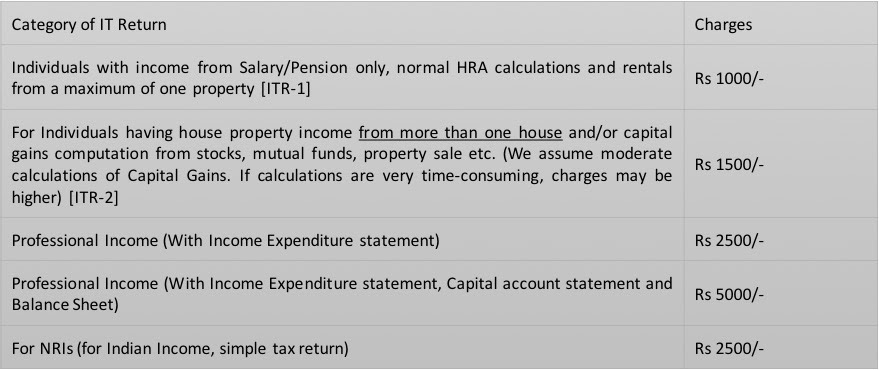 1. Collate your documents as per the list given at the link: https://humfauji.in/requirement-for-filing-itr/.
2. Make the payment for our Professional Fee as applicable to you by any of the following methods. We would be able to start work on your ITR only after receipt of our fee:-
(a) By depositing a local cheque OR cash in a local ICICI Bank branch account No 057105000790 nearby to your location in our Account Number favouring 'Hum Fauji Initiatives'. The cheque should be local to the branch of the Bank where it is deposited. In case an out station cheque is being deposited, Rs 150/- as outstation charges should be added to the cheque amount.
(b) A direct money transfer through ECS/RTGS into our account. Our account details for that purpose are as follows:
Account No 057105000790
Payable to : Hum Fauji Initiatives
Bank: ICICI Bank, Sector 7, Dwarka, New Delhi-110077
MICR Code: 110229068; IFSC Code: ICIC0000571
After the payment is made, please inform us your payment details by an e-mail to incometax@humfauji.in so as to be able to link the payment to you.
3. Send the required documents and information by email to us on incometax@humfauji.in and proof of deposit of cheque/DD or cheque for our Professional Fee as above to us at the earliest for us to start work immediately.
For the clients who have reposed a huge faith in us and entrusted us with their large savings, we are grateful to them for it and wish to give the following complementary services to them:-

Disclaimer
The Income Tax Return (ITR) is being filed by us on your behalf solely on the basis of the data supplied by you. It will be assumed by us that you have the supporting documents in original or as required by the Income Tax authorities for all the data (income, investments, savings, tax payments etc) that you send to us for filing your IT Return. Its correctness also remains your sole responsibility. In case of any enquiry from Income Tax Dept, you would be required to produce such proofs as no attachments are allowed to be attached with IT Returns which will be filed online by us.
We are fully responsible for correct filing of your ITR on the basis of your given data and our role is limited to that function. We have no role or influence in getting your refunds timely, early or at any stage of filing since the ITRs are being filed online. In fact, the timeliness of refunds, if any, largely depends on how early you file your ITR and your ITR Verification either by e-Verification or your physical ITR-V reaching Central Processing Centre (CPC), Bangalore at the earliest after being signed by you.
IMPORTANT: Please do not send us incomplete documents OR simply all the financial documents that you have. It is very difficult for us to link up documents coming to us in bits and pieces. Please remember – if there is any tax due from you, there would be a penalty at the rate of 1% per month or part thereof if you file your IT Return after ;31 Jul 2018, in additional to the penalty of late filing imposed by the Income Tax Dept. Also, late returns cannot be revised, once filed. Therefore, please try to send your documents to us at the earliest along with the payment so that returns can be filed by us in time.
Get our Newsletter to get best money ideas right in your mailbox.
Hum Fauji Financial Services is on a mission to defend the wealth of armed forces personnel.