Current Openings
---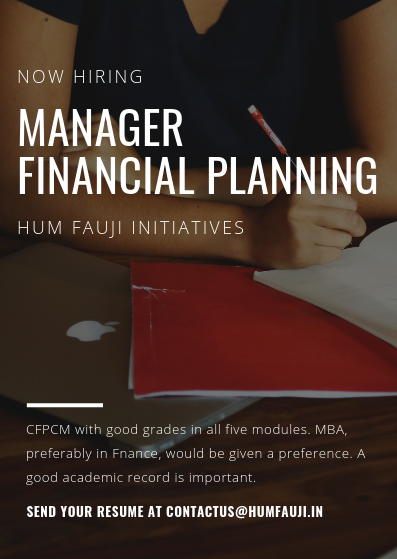 Position: Manager Financial Planning
Company: Hum Fauji Initiatives (brand name of HFI Wealth Creators Pvt Ltd)
Location:  Dwarka, New Delhi
Qualification:  CFPCM with good grades in all the five modules. MBA, preferably in Finance, would be given a preference. A good academic record is important.
Experience: Preferably with about five years' experience in financial industry with at least two years' experience at a managerial level in a financial planning firm. Should be well conversant with preparation of financial plans, investment portfolios and handling of all types of clients on a one-to-one basis having personally handled a considerable AUM. Should have handled a team of at least 5-6 financial planners.
Salary Expectation:  Annual gross approx Rs 5-6 Lakhs. Higher start may be considered for a deserving candidate. There may be separate incentives also associated with the position.
Job Description:
The selected person would be higher up in the hierarchy and be responsible for handling teams, each team consisting of 6-10 financial planners, headed by an Asst Manager.
She/He is required to be absolutely well versed with personal finance field including financial planning, investment in various financial instruments, analysis and research of financial investments and scenarios, economic pointers, and financial markets. We would be looking for candidates who are well aware of the domestic and international economic and current affairs from the perspective of managing clients' personal finance, can analyse financial data and situations, have good understanding of behavioural finance, ability to guide and mentor team members, go into intricate financial calculations and considerations using excel and financial planning software, and brief and conduct presentations for teams on personal finance topics.
The person would be looked upon to guide financial planners and Asst Managers on above issues and thus, good knowledge and a quest to increase it would be an important criterion to judge suitability. While she/he may also handle a few critical clients directly, the complete responsibility for leading, directing and guiding the Asst Managers and Planners is a more important part of the job. The performance and productivity of the teams and keeping up their morale and team-spirit will be the responsibility of the Manager.
Leadership qualities, good understanding of human behavior, positive attitude towards client service, maturity and soft-spoken demeanor, very good command over written English, and fair command over spoken English are extremely important for the job and are non-negotiables.
Send your CV to: contactus@humfauji.in