Financial Cocktail Samosas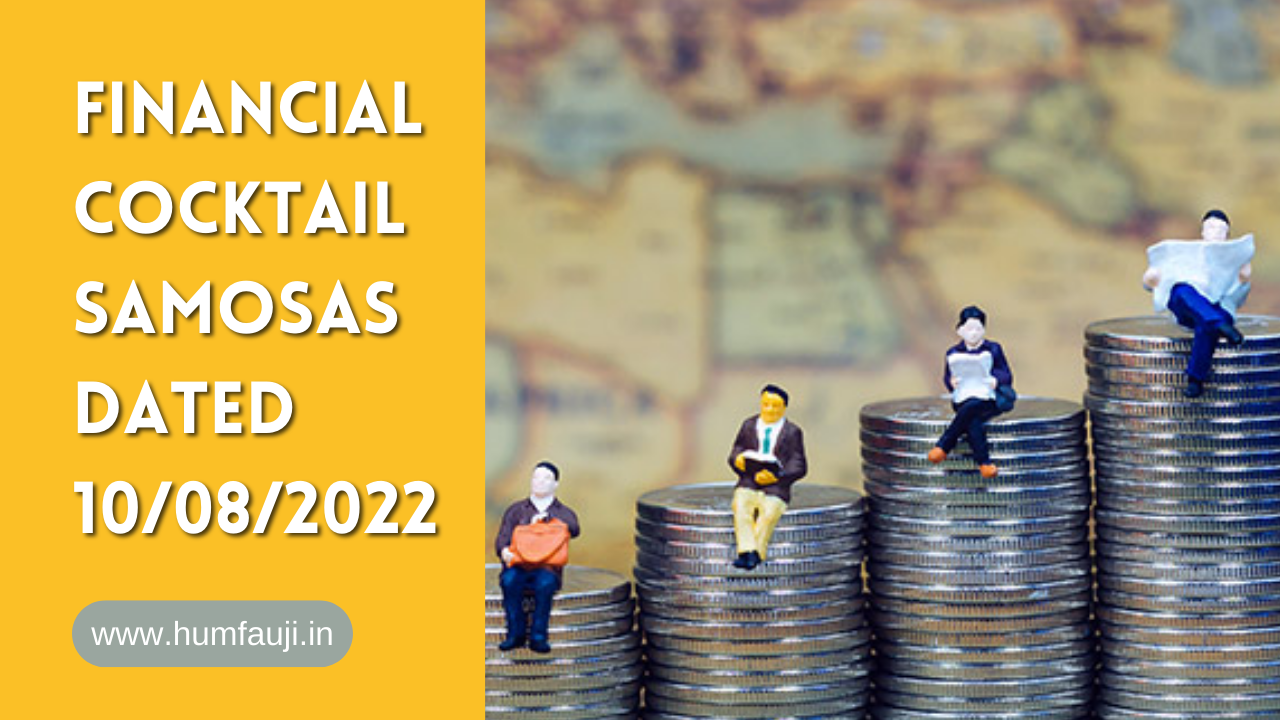 Important lessons in Investing
Investing is all about financial management, valuations, and managing oneself. Identifying the DNA of an asset class is the key to successful investing. Following lessons in investing are very important and needs to be learned as early as possible in our investment journey:
– Growth is good, but not at any cost: No business can create long-term value if there is no growth. The same happens with asset classes. Also note that not every growth is healthy growth. If a fund is showing high returns for short periods, it could be toxic and destroy the actual value of the fund.
– Cutting the noise and being patient: If any quality fund is going through a temporary setback, it could be a good time to invest, especially if the setback has no bearing on the real value of the fund. So, to generate long-term outperformance, filter the noise and remain focused all through.
– Digesting success: We should accept the hard reality that outcomes are not in our control. What is under our control is our process, inputs, fund selection, and our own behavior, which go a long way towards achieving the desired outcome.
– Invest in quality assets: Invest is assets that can generate superior returns on capital invested over sustainable periods of time. This leads to compounding of value of the earnings themselves. A high quality portfolio would separate you from the rest of the crowd during any drawdown and crisis.
– Managing own-self is extremely important: One should strive for awareness and serenity in markets as well as in life. Spiritual anchoring is essential for successful investing. The market intoxicates us with success but also drains us with failures. Meditating for 15–30 minutes a day can help maintain a balance in both areas.
Always Remember: "Growth is the horse and valuation is the cart, and not the other way around."
(Contributed by Priya Goel, Financial Planner, Team Sukhoi Hum Fauji Initiatives)
Why is a financial plan important for you?
A lot of people believe that saving regularly in banks or investing in the financial markets does the job of financial planning, but in reality, an investment without goals is directionless. It's like going on a road without a destination in mind.
A financial plan constructs a road map to achieve all the financial goals after aligning the investments with your goals. It helps to build a contingency fund for any unforeseen needs that may arise. It gives you a better picture of your current and future financial needs.
A proper financial plan makes your life easier in the following ways:
– Where to invest and how much to invest: A financial plan lets you know how much to invest and in which instrument, to reach your financial goals by taking minimum risks as per your risk-taking capacity and aptitude.
– Budget Management: It assists you in managing your inflows and outflows in the best way in order to achieve your goals. It helps you cut-out unnecessary expenses and gives you a firm grip on your financial situation.
– A Blueprint for Your Long-Term Goals: It prepares a roadmap for your goals and guides you in choosing the right investment avenue. Additionally, it protects you from making impulsive investments and ineffective tax planning decisions.
– Better Preparation for Retirement: We can't prepare for everything, but we can always prepare for most of them. Setting the right asset allocation based on your goals prepares you for a stress-free life – before and after retirement.
Many of you might not have the time and expertise to plan and execute your own financial plan. Hence, it would be prudent to seek the advice of an experienced financial planner who can help you in building a proper financial plan so that your finances can be managed in a better way.
Remember, financial plan and financial nirvana are synonyms.
(Contributed by Yogesh Gola, Associate Financial Planner, Team Vikrant, Hum Fauji Initiatives)
Why do Health Insurance Claims get rejected?
The main reasons that most people purchase a health insurance policy are for financial security and peace of mind during medical emergencies.
But, after going through a stressful medical procedure or recovering from an illness, it would be a nightmare to have the health insurance claim rejected. In order to keep yourself secure from the above fiasco, keep the below aspects in mind:
– Wrong information: Any discrepancy, even a sincere mistake, while filling out the form, like a spelling mistake or a deliberate attempt to hide information like annual income, lifestyle and family health details may lead to not just rejection of the claim but even termination of the policy.
– Pre-existing Illness: Policyholders sometimes buy insurance keeping future treatment in mind but forget that pre-existing ailments may not be covered. An attempt to hide the past medical details can be the reason for future claims rejection. Most insurance companies do not cover pre-existing diseases such as high blood pressure, and hence, any medical expenses incurred due to that will not be covered.
– Not knowing the exclusions: Policyholders often miss out on reading the terms and conditions that state that an injury caused while being drunk or doing adventure sports will not be covered. Similarly, no claim can be made until at least 30 days have passed since the policy's inception date. So, know the exclusions clearly before going ahead with a policy.
– Policy lapse: There have also been cases of people taking a week or even a month's time before renewing their insurance, falling ill during that phase and then denied a claim. That's why it's important to renew the policy well before the deadline.
– 'Bonus Tip' – Don't forget the PRR: At the time of making claims, always remember the PRR principle – Prescription, Receipts, and Reports. Always ask the doctor to give you a prescription for each test, surgery, and medication followed by receipts of payment and reports of the ailment.
(Contributed by Sweta Kumari, Associate Financial Planner, Team Arjun, Hum Fauji Initiatives)
August 14th, 2022
Should you become an investor or a stock trader? 
The adrenaline flow resulting from trading stocks minute-to-minute or day-to-day, or having black-red-blue-green complicated-looking charts open on the computer terminal, have always created a lure for stock trading over patient stock investing. Media, websites, influencers, 24X7 investing TV channels and even whatsapp group conversations have fanned this feeling of trading creating instant wealth over the boring long-term stock investing.
How many of you have heard of millionaires and billionaires who've amassed wealth through trading? Rarely so.
To try and predict the herd behaviour, ie, how the markets will move in a short-term due to how majority of investors will trade in the next hour or day or week or a few months is neither easy, nor possible for almost 100% of retail investors. But what is easy and the best way to invest in the stock markets is to do research, be disciplined and above all, be patient.
Following rules are the only sure-shot way to get great returns from your stock market investments.
Follow a disciplined investment approach. In spite of the volatility in the market, the investors who put in money systematically and patiently have seen stable and better returns. Always be patient and follow a disciplined investment approach besides keeping a long-term broad picture in mind.
Have realistic expectations. There's nothing wrong with hoping for the 'best returns'  from your investments, but you could be heading for trouble if your financial goals are based on unrealistic assumptions. For example, many stocks have generated more than 50% returns during the recent bull market, but having the same expectations all the time will only create disappointment.
Create a broad portfolio. Diversification of a portfolio across asset classes and instruments is the key factor to earning optimum returns on investments with minimum risk.
Do not let emotions cloud your judgment. Emotional influences on investment decisions can be hard to counter. The optimum response to emotion in investing is to acknowledge it without allowing it to make you deviate from the financial plan that has been created for your financial goals.
(Contributed by Kritika Saini, Relationship Manager, Team Arjun, Hum Fauji Initiatives)
Understanding AIS and TIS Statements
Have you found some humongous numbers reflected in your AIS?
Or have you wondered why some purchase and sales transactions are reflected there when no profit has been booked?
So, what exactly are the AIS and TIS?
An Annual Information Statement (AIS) is a comprehensive statement containing details of financial transactions carried out by you in a financial year, irrespective of whether tax has been deducted or not or whether tax is required to be paid or not. To put it simply, AIS informs the taxpayers what information has the income tax department received from various financial entities about your financial dealings. AIS has been launched to achieve more transparency and simplify the tax system. It also helps to eliminate underreporting of income by tax payers.
The Taxpayer Information Summary (TIS) is the final statement which is used for income tax filing as it shows the amount on which we need to pay tax.
What if there are any errors in AIS?
Since it is a new mechanism in the overall tax filing structure, there might be some errors in this statement.
If some information is incorrect, then every tax payer's responsibility is to submit online feedback to the income tax department. If the taxpayer submits feedback on AIS and it is accepted, the derived information in TIS will be automatically updated in real-time and can be used to file the ITR.
To submit the feedback: Access Income Tax > Go to services > Select AIS > Click on the transaction > Select Optional > Submit Feedback.
(Contributed by Ayushi Gupta, Financial Planner, Team Arjun, Hum Fauji Initiatives)
How to analyse your own risk profile?
Every single person has a different risk profile as the risk appetite depends on many things – psychological factors, loss bearing capacity, the investor's age, income and expenses, etc.
 A risk profile is broadly a factor of:
Your risk capacity
Your risk tolerance and
The risk you need to take to achieve your planned financial goals.
There are different types of investors, and you have to check what your risk type is:
1) Conservative: An investor's top priority is the safety of capital, and he/she is willing to receive minimum or low returns while incurring minimal. Such investors stick to assured return investments and debt mutual funds. Such investors typically maintain a 10-25% Equity and 80-90% Debt in their overall portfolio.
2) Moderately Conservative: Such an investor is willing to accept a small level of risk in exchange for some potential returns over the medium to long term. Such investors typically maintain a 20-35% Equity and 65-80% Debt in their overall portfolio.
3) Moderate: This investor can tolerate a moderate level of risk in exchange for relatively higher potential returns over the medium to long term. Such investors typically maintain a 40-60% Equity and 40-60% Debt in their overall portfolio.
4) Moderately Aggressive:  Such investors are keen to accept high risk in order to maximise potential returns over the medium to long term. They typically maintain a 50-70% Equity and 50-30% Debt in their overall portfolio.
5) Aggressive: These investors accept significant risks to maximise potential returns over the long term and are aware that they may lose a significant part of their capital if they do not maintain discipline and emotional control. Such investors typically maintain a 80-100% Equity and 20-0% Debt in their overall portfolio.
Investing in mutual funds helps you invest across asset classes as per your risk appetite which can be varied as you wish. While investing in MFs, choose a mutual fund category depending on your risk appetite and goals' time horizon.
(Contributed by Shaheen Akhtar, Associate Financial Planner, Team Prithvi, Hum Fauji Initiatives)
August 3rd, 2022
Is 'tax loss harvesting' worth it?
There are many times when we experience a notional capital loss in the stock markets. This form of loss is the simplest but painful because it gives a feeling of losing something. You decide to end the pain if there seems to be no end in sight and sell it at some point to book the losses.
What is tax loss harvesting?
If you hold stocks or equity mutual funds in your portfolio that have unrealized losses and you feel you should book the losses to look ahead, you can set off these losses against realised profits on which you have to pay tax in that financial year. To do this, you have to book the losses to effectively reduce the realised gains and hence also reduce the tax payable. This strategy is called 'Tax Loss Harvesting'.
Should you use tax loss harvesting with your investments?
For investors who have a large equity portfolio and higher incremental gains, tax loss harvesting can be an effective strategy provided the stocks or equity MFs which are in a loss right now seem destined to stay down for a very long time in your opinion. Please don't get out of good stocks or equity MFs just because there is a seasonal downtrend in the markets – if you get into that tendency just for saving a bit of tax, you will never be able to build long-term wealth.
Important points to note
Please remember that Long-term capital losses can be set-off against only long-term capital gains. You cannot set-off long-term capital losses against short-term capital gains. However, Short-term capital losses can be set-off against either short-term capital gains or long-term capital gains. So plan properly and then execute this strategy if you've done your homework well.
(Contributed by Nidhi Dogra, Associate Financial Planner, Team Arjun, Hum Fauji Initiatives)
The RBI as Indian Rupee's saviour
Since December 31, 2014, the Indian rupee has lost nearly 25% of its value and is now close to 80 against a dollar. The rupee is currently being impacted by numerous things, a few are listed below:-
High Crude prices and Inflation
Dollar demand by Oil marketing companies, importers and FIIs
Fiscal and Current account deficit
US Rate Hike leading to investment flow-outs
Here, the RBI steps in as a parent, taking the following actions to prevent the Indian Rupee from falling in value against the US Dollar and to maintain its FOREX war chest:
1) Rupee Internationalization: The RBI has allowed settlement of export-import invoices and payments in Indian Rupees rather than only in other foreign currencies like the US Dollar to reduce the need for dollars in commerce.
2) Relaxation on FPIs' Short-Term Debt Investments: Foreign Portfolio Investors' (FPIs) short-term investments in G-Secs and corporate bonds made between July 8, 2022 and October 31, 2022 will be exempted from the 30% limit on short-term investments. This action would encourage FPIs to increase their investment in our short-term debt securities.
3) The Elimination of Interest Rate Cap on Non-Resident Deposits: For additional deposits that banks pull up by October 31, 2022, the interest rate ceiling on FCNR Banks and NRE deposits is temporarily removed. So, banks can offer higher interest rates to entice deposits from non-residents in foreign currency.
4) Exemption on CRR/SLR on additional Non-Resident Deposits: Additional term deposits mobilised in FCNR(B) and NRE accounts till Nov 4, 2022 will be exempt from maintenance of CRR/SLR. This will encourage banks to accept more deposits from non-residents.
5) Relaxations in Foreign Currency Lending by Indian Banks: Banks can now lend overseas foreign currency to a larger range of borrowers instead of just export financing. This will help the Indian businesses that are facing trouble in raising international finance.
Hopefully, these measures will help the Indian rupee thrive against other international currencies.
(Contributed by Priya Goel, Associate Financial Planner, Team Sukhoi, Hum Fauji Initiatives)
Should you wait for more time to invest?
The market is roughly down 11.5% from its all-time highs. Should you invest now or wait for more time?
Every time the market declines or starts going up, questions like these come up in investors' minds.
Will the market correct further from here?
It certainly can, as there is no way to predict the bottom of the market, but in the long run, equity has historically always outperformed all other asset classes. We have seen how some people missed out on the 2020 buying opportunity in the hope of a further drop or with a view that 'it is all over now…forever'!
So, is this the right time to invest?
Nobody can say that. But savvy investors start 'accumulating' when worst seems to be over – investing in small amounts at regular intervals, like going through STP (Systematic Transfer Plan) route in equity Mutual Funds, as we have been doing for our investors. Continuing SIPs throughout your investing period is also very important.All that is required is to ensure that your investments remain aligned with your goals. That's why it is advisable to have a proper financial plan as it reduces the stress of picking and choosing investments and when to buy and sell.
Looking to invest bulk, which way to go ahead?
These downturns can be smart buying opportunities for long-term wealth accumulation. Those looking to invest in bulk can go through the route of STP to ride through this prevailing volatility in the market, with bullet investments when required as we have been doing for our investors.
Also, remember that investing in equity requires a long investment horizon of at least five to seven years. One should continue to accumulate on dips rather than try to predict the bottom.
Time in the markets and not timing the markets is the golden mantra here.
(Contributed by Yogesh Gola, Associate Financial Planner, Team Vikrant, Hum Fauji Initiatives)