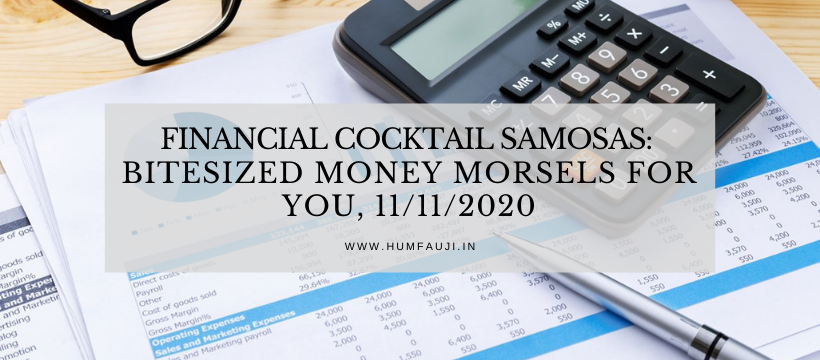 Cut-Off timings for Mutual Fund transactions
Let me tell you something which is not that relevant, but may be interesting for you to know. Unlike share prices, a mutual fund net-assets value (NAV) does not fluctuate throughout the day. Once the share market closes, the closing value of each share available under the scheme is taken into consideration to evaluate NAV.
However, which NAV will apply if you transact (purchase, redeem or switch) on a particular day, depends on whether you have transacted before the cut-off time or after the cut-off time. If you transact before the cut-off time, you get the same day NAV, else next day NAV.
Effective from 9th November 2020, new cut-off timings for purchasing liquid and overnight schemes is 1:30 PM and for other than liquid and overnight schemes is 3.00 PM. For redemptions or switches, cut-off timings for all the types of schemes are 3:00 PM.
Spend to save tax!
The government is coming up with tax saving schemes for salaried individuals wherein they will be required to spend money to save tax. This time it is in exchange for the Leave Travel Allowance (LTA). If you have not been able to travel in the current financial year due to the pandemic, which means you would lose out on the associated tax benefits.
The government has now said that if you make a spending of three times your LTA on specific goods or services, you can take that tax benefit without actually travelling. For example, if you have an allowed LTA of Rs 50,000, in a normal situation you could have got an exemption on income tax on that amount if you use it for travel. This year, however, you can either spend that on travel, or spend Rs 1.5 lakh on specific purchases. The spending needs to be done only through digital modes before 31 March 2021.
Ex-gratia' amount from your bank?
Last week many people were confused due to a strange-looking email from their banks. This mentioned that an 'ex-gratia' amount has been credited to their credit card or loan account. To add to the confusion, one leading bank sent out the emails with an error in decimals, which made the amount being credited look significant. While the bank later sent revised emails to its customers, the unusual emails made many people think of this as a scam.
This, fortunately, is not a scam. The banks and financial institutions are following the directive from the Government of India, which had announced a scheme on the directions from Supreme Court. Simply put, the banks are simply paying their loan customers an amount which is the difference between compound interest and simple interest for the eligible loan accounts, up to a certain limit. This could include home loans, credit card dues, and consumer durable loans, among others.