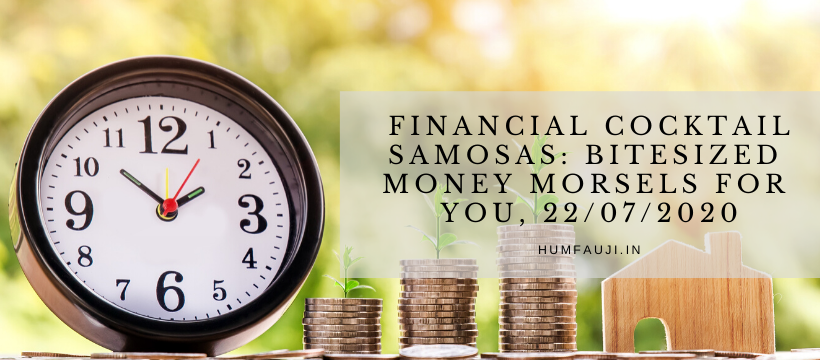 Fund of Funds, your route to investing Globally
Many of you might be using an iPhone to browse your social media account on Facebook and searching on Google while watching a Netflix movie as also side-by-side ordering on Amazon. When it comes to buying personal use items or using many services, we prefer foreign brands over domestic companies in large number of cases. Don't you think you should also invest in the brands which you use? Just to give you a perspective, total market capitalization of Apple, the company which manufactures iPhones, is almost equal to total market capitalization of Bombay Stock Exchange (BSE). Similarly, Facebook's market capitalization is more than half of BSE's market-capitalization. Apple stock is up 60%, Amazon and Google up 85%, and Netflix up 65% from their this year lows.
Wondering how you can do it? While there are different routes, the simplest one is investing in Funds of Funds (FoFs) mutual fund schemes. FoF provides a way to participate in international markets as they invest in international funds, which in turn invest in the global companies depending on the kind of fund you choose – USA, Europe, Japan, and even Brazil. So, if you want to boast of having the FAANG stocks (Facebook, Apple, Amazon, Netflix, Google) and more in your portfolio so as to get benefited out of different economies, you should invest in International FoFs.
Should you opt for the variable transfer plan?
Systematic Investment Plan (SIP) and Systematic Transfer Plan (STP) is not a new thing for most of you. Many of you have several SIPs running and by now you must have understood the merits and advantages of investing in mutual funds through SIPs. Similarly, many of you are also aware of the purpose that STP serves—it helps investors to reduce risk, by facilitating them to invest the lump sum amount in a mutual fund (typically debt funds) and transfer a fixed amount regularly into another mutual fund, mostly equity funds.
However, many of you may not be aware of the Variable Transfer Plan (VTP). VTP allows you to invest more during the falling market, hence bringing down the average cost of purchase and benefits investors when the market rises.
For instance, let's suppose you put Rs 5 lakh in a debt fund and opt for a VTP of Rs 10,000 to an equity fund. Assuming that, after five instalments, the market comes down and the value of your investments so far of Rs 50,000 (10,000 X 5) comes down to say Rs 45,000. The next instalment as per the VTP= (6 X 10000) – 45,000 = 15,000 will be invested into your fund.
Food prices are on the run!
The Central Statistical Organization (CSO) of India tracks the price movement of various consumer goods and services and based on that publishes a Consumer Price Index (CPI). The Index actually indicates the inflation in these goods and services on a monthly basis. For your information, increment in dearness allowance (DA) of government employees is also based on change in CPI numbers.
According to inflation data released by the CSO for the month of June 2020, food prices have witnessed a significant surge. For instance: Meat and Fish prices increased by more than 16%, Oil and fats prices increased by more than 12% and prices of pulses also increased by almost 17% in the month of June. However, prices of other categories of goods such as clothing, footwear, fuel and housing increased negligibly in the month. According to economists, high inflation in food prices was due to lockdown and they expect correction in the CPI inflation as the situation normalises.