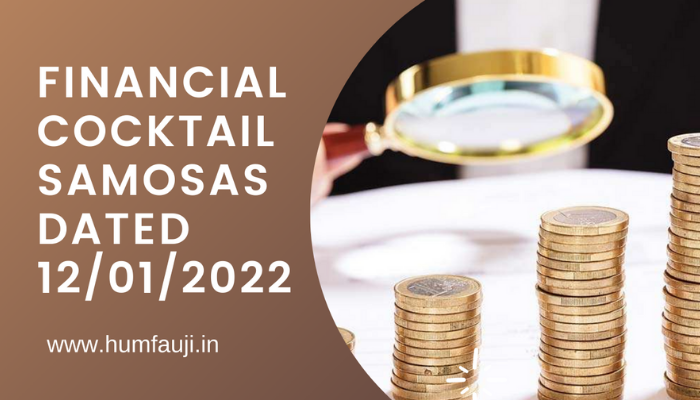 Insurance and Investment – Don't mix
Socks and Shoes, कड़ी-चावल are good combination for Indians but insurance and investment is not. Insurance is meant to cover the risk and investment is meant to create wealth. So, Insurance is Insurance and Investment is Investment, and the two should never meet!
Both risk cover and returns are critical financial planning components and require specialized products but a खिचड़ी approach, which a large number of people try to do, egged on by an army of insurance agents, will never work.
Endowment plan is an investment cum term insurance cum health insurance cum critical health insurance cum… And in real terms it is actually कम returns, कम risk cover at ज़्यादा premium et al – in effect, it is a bitter खिचड़ी.
So, how does one go about an insurance?
The first and foremost insurance one needs buy is health insurance. If that has been done, or ensured through an employer provided plan (like for armed forces officers and men), critical illness insurance is the next in line. With treatment of critical illness cover becoming more expensive, its coverage has become an indispensable part of your health insurance. Although faujis are lucky in this aspect, their grown up children working in the corporate or having their own venture must take sufficient independent health cover as also critical insurance cover without depending solely upon the cover provided by their respective employers.
As responsibilities keeps building up in life, life insurance requirement comes into the picture. Adequare Term Life Insurance ensures that if something happens to us today, our responsibilities are very well taken care of. A proper asset-liabilities and goal analysis should be done to know the amount of insurance cover and its duration required in a term plan.
For investments, there are a number of avenues available depending upon your risk appetite, future financial goals and market conditions. Safe products like bank and corporate FDs, bonds, debt mutual funds etc on one side, and equity Mutual Funds, Direct Equity, etc on the other, fill the wealth creation universe. More on it later.
While खिचड़ी is good for health, it doesn't work well in your wealth creation journey. Think about it.
(Contributed by Nidhi Dogra, Associate Financial Planner, Team Arjun, Hum Fauji Initiatives)
What does the story of 'The richest man in Babylon' teach us?
There is an ancient story of a man called Arkad, who was the richest person in the city of Babylon. Somebody asked him for his secret of success.
He replied, "I used to be like any other person in the city. One day, Algamish, the moneylender, made me learn the lesson of how to become rich. He told me – see Arkad, if you want to be rich, then you need to start paying yourself first; and not just paying but also putting that paid money to work. Every gold piece you save, is your slave to work for you. Every copper that Gold itself earns is its child that should also earn for you."
In effect, Arkad talked about the process of compounding of our money, wherein our invested money earns money which itself earns further money – the simple and compound interest funda we were taught in the school.
If we save our money in a bank account, it just earns a simple interest which, after accounting for taxation and inflation, actually gets us negative returns. So, by keeping a big amount in a savings bank account, we actually are saying – 'Hey my money, I don't care for you. Just RIP'!!
Bank FDs, though supposed to compound, are really no better. The rates of interest are always low and the way they work, will always be low in future too. Like a savings bank account, after accounting for tax and inflation, they are also a 'RIP our money' kind of instruments.
Should we be treating our hard-earned money in such a lackadaisical manner?
We come across so many of our investors who redeem large amounts of money from their well-earning investments to have them lying idle in a savings bank account just because the plans to buy the property got deferred. It is not very uncommon to see large amounts lying in a saving bank for many months because the investor does not calculate the potential loss. Even low-earning FDs do not fare much better. The right approach is to keep minimum amount of money in savings bank account to take care of about 2-3 months of monthly expenses and emergency funds in small bank FDs. The rest should be parked in good investment avenues of whom there are plenty to suit all risk profiles and future requirements.
Final Takeaway – The richest man of Babylon, Arkad, and the moneylender have given us three golden mantras:-
1. Pay yourself first.
2. Make your money work for you – as hard as you work yourself.
3. Seek advice from people who are competent to give it.
(Contributed by Ayushi Gupta, Associate Financial Planner, Team Arjun, Hum Fauji Initiatives)
Happy Makar Sankranti!!
The harvest festival of Makar Sankranti is both a religious as well as seasonal observance, and is dedicated to Lord Surya, the Sun God. It marks the end of winter as well as the beginning of longer days on account of the sun's northward journey; this period is also known as Uttarayan on this account and is considered to be very auspicious.
The festival has a bunch of very good learnings for all of us.
'Every season is not a harvest. There are seasons of watering, planting, pulling out weeds and fertilizing too.'
We all have the tendency of losing our patience and becoming anxious for results early, as early as possible. In addition to this, weeds do come up in our lives but we are unwilling, or don't have the time, to pull them out. For good growth, we need proper watering, planting and fertilizing apart from de-weeding.
In your investments too, we should plant seeds of investments, and water them continuously through disciplined monthly investments. And as fertilizers are necessary, debt funds and gold become an important part of your portfolio too. They do not give high returns but help your portfolios grow in a stable manner irrespective of seasonal changes. Of course, we can't forget weeding out task, else the weeds will spoil the complete portfolio gradually. Periodic portfolio review and rebalancing will help remove such weeds as well.
Learn from Makar Sankranti and invest happily..!!
(Contributed by Jatin Uppal, Deputy Manager, Hum Fauji Initiatives)