My Article Voted 'One of the Best of Past One Year' in Times of India of today (12 Aug 2014)
Please find below my article titled 'Don't Get Lured by Short Term Gains' published today (12 Aug 2014) in Times of India (All India Edition). The article was first published on 15 April 2014 and has been voted as one of the Best Article published in Times of India in the past One year on Personal Financial Planning.
This article brings out the merits of investing based on deliberate planning Over investing for short term gains without any long-term planning. Hope it motivates people to plan for their financial goals and then invest prudently.
(Please enable your 'Display Images Below' in the browser to see the article)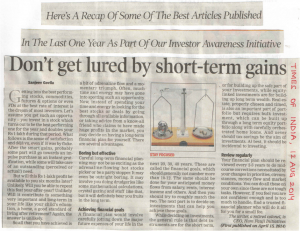 Visit our Blog, https://humfauji.in/blog or facebook page http://www.facebook.com/HumFaujiInitiatives or follow us on Twitter  https://twitter.com/#!/humfauji  to get latest insight on matters financial
For more information, feel free to reach us on, contactus@humfauji.in or call + 011 – 4240 2032, 40545977, 49036836