Categories: Financial Cocktail Samosas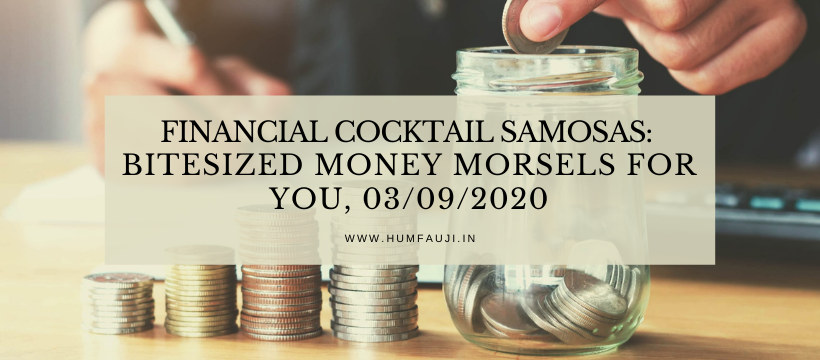 Mutual funds – truly a tax efficient investment avenue
A rupee saved is a rupee earned; that's why, it is very important to choose a tax efficient instrument while making an investment decision to enhance your returns. Mutual fund (MF) schemes are one such investment products which are very tax efficient compared to other investment avenues. Basic Fact – unlike other safe investment avenues, there is any tax payable in MFs only if you sell. If you don't sell anything, there is no taxation forever.
In case of equity MFs, profits from units held for more than One year are considered as long-term capital gains (LTCG) and are taxed at a super-cool 10% rate. Additionally, the first Rs 1 Lakh of profit each year which is LTCG (ie, held for more than a year) is exempt from tax. Short term capital gains (STCG) on equity MFs units held for One year or less are also taxed at a concessional flat rate of 15%.
In Debt MFs, profits from units held for more than 3 years are considered as long-term capital gains (LTCG). They are taxed at a concessional 20% tax rate (even if you are in 30% tax slab) after providing for indexation. For those who are not aware of indexation, it is a calculation which effectively brings down your tax taking into account the effect of inflation over time into your cost price. Profit on sale of Debt MFs before 3 years is counted as STCGs and is taxed as per your income tax slab.
Always opt for Cashless facility in health insurance policies
Having a health insurance policy is a must, more so in the current pandemic, for those who do not have the benefit of an employer provided health facility, like in the armed forces. The cashless facility, where your insurer settles your medical bills directly with your healthcare provider, is certainly a big boon. At the time of a medical emergency, making arrangements of funds would be the last thing you should be compelled to do. For most of the people, it becomes very difficult to arrange large amount of funds in a short span of time.
Cashless facility is typically available only at 'network hospitals', ie, those hospitals where insurance companies have a tie-up. You don't have to worry about how to make payment of bills if you are admitted to one such network hospital since the insurer will directly settle the bill with the hospital. This is why, while buying a health insurance policy, take the list of network hospitals from the insurer and make sure that the hospital near your home or a good hospital in your vicinity or town is on that list.
Second installment of advance tax is due on 15 September 2020
If you have incomes other than salary, this is for you.
Typically, employers deduct tax on your salary as per the tax slab, but if you have other sources of income like interest, dividend, rent, capital gains and so on, you may have to pay advance tax on these incomes. If you have a pension, do check whether your bank is deducting the requisite tax on it; otherwise you may also be required to pay advance tax on the balance tax amount.
Advance tax liability for an individual taxpayer occurs when tax on expected annual income exceeds Rs 10,000. One has to pay advance tax installments in four installments every year. The first installment date was 15 June, by when one had to pay 15% of the estimated tax liability. The second installment which is now approaching, due on 15 September, by when 45% of the tax liability has to be paid. The next dates are 15 December and 15 March, by when 75% and 100% of the respective total tax liability for the financial year should be paid. So, hurry up, you have just a few days left to comply with the rule for second installment.
September 3rd, 2020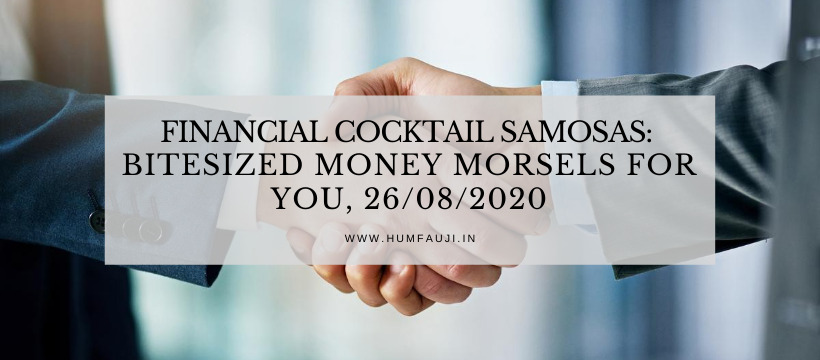 The name is bond, Perpetual Bond…
After bank Fixed Deposits (FDs), bonds are the next most preferred investment avenue by many Indians. Normally, a bond is for a fixed tenure, after which the bond can be redeemed by the bond holder. Till the tenure comes to an end, the bond gives a fixed return, which is the interest paid by the bond-issuing entity. It could be a company, bank or a government issued bond.
There are, however, a different type of bonds that are lesser known. These are called 'Perpetual Bonds' (or 'perps'). As the name suggests, unlike regular bonds, the tenure of these bonds is not fixed and can go on for perpetuity technically. The major difference is that the bond holders have no option to redeem these bonds on their own, unless the issuer wishes to call the bonds back. For agreeing to this uncertainty of maturity, the investors are rewarded with a much higher rate of interest.
These bonds can appear to be very attractive in a scenario like now when interest rates are falling. In India, perps by PSU banks like Bank of Baroda are currently yielding approximately 8% or more rate of interest and going by the past trend, mature in 5-7 years from the date of issue, though not guaranteed.
Daughters have an equal right in a HUF
Hindu Succession (Amendment) Act, 2005 was a landmark act which made daughters an equal partner in ancestral wealth along with the sons. This was, very rightly, hailed as the start of a gender-equal era in the traditional Indian society. However, many ambiguities still remained in succession laws in India.
Recently in a landmark judgment, the apex court has clarified a long pending vagueness related to right of a daughter in a Hindu Undivided Family (HUF). The Supreme Court has clarified that daughters have equal rights in a HUF just like sons since the day they are born, irrespective of whether the father was alive when the 2005 Act was passed – the right of a daughter is exactly in the same manner as that of the son, including in a retrospective manner. This retrospective effect would give daughters, who were alive in 2005, an equal right over their share in the HUF.
Do you know the third party in your car insurance policy?
Typically, in case of insurance policies, be it health, life or others, there are only two parties, one is the insurance company (insurer) and the other one is the insured (policy holder). But in case of vehicle insurance like a two-wheeler or a car, there is a third party as well.
In fact, having third party insurance is a must before you hit the road and start driving your vehicle. If you don't have third party insurance, you are not supposed to drive your car on the road, as per the Motor Vehicles Act, 1988. If you get caught driving a car without a third-party insurance policy by the traffic police, be ready to get a challan after a nice pow-pow with the traffic inspector.
And who is this Third Party? Actually, the third party can be anyone (a person or other vehicle) who becomes the victim of an accident or injury caused by you while driving your vehicle. If you have the Third Party insurance, any liability arising on you (the insured) by the third party is paid by the insurance company.
August 26th, 2020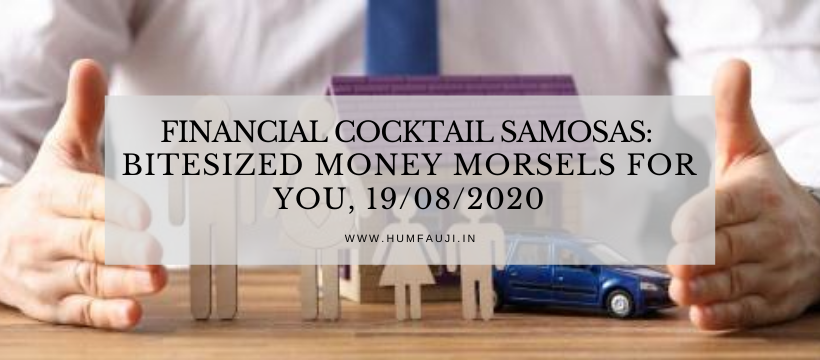 Do you know why you should opt for Zero-Dep cover while buying car insurance policy
If you have ever made a claim against your car insurance policy, the service centre might have asked you to pay a part of the bill out of your own pocket, if 'Zero-Dep' cover was not there. This is because standard car insurance policies do not pay for a few types of car body parts and also factor-in depreciation before settlement of claims.
Zero-Dep (ie Zero depreciation) policy with Zero-Dep cover is also called as Bumper to Bumper car insurance policy. As the name suggests, under the car insurance policy with Zero-Dep cover, if you make a claim for repair of car, no depreciation is deducted from the value of the body parts of your car. That means, the insurance company will pay the entire cost for repair or replacement of all the parts, including those made of fibre, rubber and metal parts. Typically, in case of normal car insurance policy, the insurer does not pay for replacement of body parts made-up of fiber or plastics. So, when you buy a new car or renew your existing car insurance policy, look-out for Zero-Dep cover if it seems cost-effective.
You can insure the biggest asset you possess— your house—by paying a small premium
Frequent earthquakes in and around the national capital region has made many people worried about the extent of loss of lives and damage to house property a high intensity earthquake can do. As per reports, this has resulted in a large increase in inquiries for home insurance policies over the past few months.
A home insurance policy is among the most affordable insurance policies one can buy. Typically, it costs just a few thousands to insure a house valuing lakhs and crores of rupees. There are two types of house insurance policies – one that covers the cost of reconstructing the house and another where the insurer pays based on the agreed value. There are other riders that you can add to enhance your cover based on what you visualise and need.
There are other things also to consider before buying a home insurance policy. Your trusted financial advisor will be able to fill you in on this.
Consider Fixed Deposits (FDs) offered by corporate to get better returns
To most of our retired investors, we suggest them to invest a major portion of their portfolio in low risk and fixed return instruments. But, falling interest rates on bank and post office fixed deposits (FDs) has become a big concern for many. Most of the large, established banks are now offering just about 5.5% – 6% interest rate per annum on FDs, which is considered very low. After taking into account inflation and tax on the interest, the investor gets negative inflation-adjusted returns.
Corporate fixed deposits (FDs) can be an alternative for such investors, as they can provide assured returns, which are generally 1% to 3% higher than the interest rates being offered by banks for similar periods.
While corporate FDs offer higher return, they could also carry some risks and, therefore, one needs to tread with caution while putting one's hard-earned money into such schemes. The company need to be very carefully selected and the period of investment also has to be carefully chosen.
August 19th, 2020