Categories: Financial Cocktail Samosas

Did you know you can get tax deduction against interest payment on car loan?
If you are planning to buy a new car, you may consider different electric vehicles available in the market. Not just because it is environment friendly, but also because it offers tax benefits. Yes you heard it right, tax benefits in the form of deduction against interest payment on car loans, which can help you in bringing down your taxable income and eventually the tax liability.
Just like deduction benefits available against home loan interest, in the union budget 2019, a new section 80EEB was introduced. Under this section, interest payments on car loans of up to Rs 1,50,000 is available as deduction to individual taxpayers who buy an electric vehicle.
Remember, that you should take a loan from a financial institution or a non-banking financial company for buying an electric vehicle, to claim the deduction.
You can still file a belated return
If you haven't filed your income tax return (ITR) for the financial year 2019-20 (ie, the assessment year 2020-21) yet, you can still file it till March 31, 2021. However, if you file the return now, it will be considered a belated return, as you are filing it after the due date. Usually, 31st July of an assessment year remains the due date for filing ITR for the previous year, but because of a pandemic this time the due date was extended up to 10 January 2021.
If you file it now, you are also required to pay a delay penalty of Rs 10,000 along with panel interest on due taxes if any. However, filing your ITR is a must for various reasons. If you have not filed it yet, don't delay it any further.
Should I book profits?
Share markets recently touched new heights and once again there are numerous calls that we are handling on a daily basis on the theme of 'should I redeem my investments'.
Please remember, your decision to enter or exit the market should not be based on market movement or levels. The decision should be based on your financial plan and future financial goals. For instance, if any of your goals is nearing, you may consider transferring your investments from equity mutual funds to the debt funds. Similarly, if you have invested in stocks and target price is achieved and you know the intrinsic value or say PE ratio is above the real value, you may consider liquidating your investments.
Otherwise, from the long-term perspective, stick to your asset allocation and if you find there are changes in asset allocation while reviewing it, you may need to switch profit from equity investments to the debt instruments, in order to bring it back in line.
February 24th, 2021
Mutual funds—how much does it cost?
Many of you may not be aware of how mutual fund companies earn profits, pay its expenses or pay to distributors. Obviously, it's a business so all these come from customers or clients; in this case it is you—the investors.
To know how much a mutual fund scheme charges from you, you have to understand the expenses ratio. It represents the annual fund operating expenses of a scheme such as administration, management, advertising related expenses and so on. Typically, the expense ratio remains between 1% to 2.25% of AUM in case of equity-oriented schemes and less than 1% in case of debt schemes. An expense ratio of 1% per annum means that each year 1% of the fund's total assets will be used to cover expenses. Information on expense ratio that may be applicable to a scheme is mentioned in the offer document and are easily available on the internet at various places.
The Growth and the Dividend options of mutual funds
One thing why mutual funds fit into most investment portfolios is because of the flexibility they provide. Almost all the mutual fund schemes come in two types of plans – growth and dividend. The growth option gives returns in the form of rising values of mutual fund units. Whereas, under the dividend option returns are paid via periodic dividends.
So, if you are investing keeping in mind a long-term goal, ideally you should choose a growth option, where your gains remain invested and keep growing. In case you feel happy with something coming to you periodically from your mutual fund investments, you can choose a dividend option. However, please note that the dividends are neither promised in value nor in frequency, and hence can never substitute for any regular income. In fact, every time a dividend is paid, the value of your fund goes down because it is taken out from the fund value itself.
Typically, every investor should choose the growth option to invest. In case regular income is required, Systematic Withdrawal Plan (SWP) is a much better and predictable way rather than Dividend option.
Income tax department charges tax and penalty if you delay filing your ITR
Many of you might not have filed your income tax return (ITR) yet. But instead of waiting till the last date, there are merits to file it at the earliest. For instance, if there is any tax to be paid on your part, the income tax department will charge you interest on the due taxes till you pay them. Even if you don't have any tax dues, you may still have to pay a penalty if you delay filing your ITR beyond the last filing date. On the other hand, filing a return at the earliest is also better if you have tax refunds to claim since refunds typically work on first-come-first-serve basis unless the refund amount is very large, in which case there could be some more delay.
ITR also comes handy when you apply for certain types of loans like home loans, personal loans and so on. In some cases, you may need to provide ITR while applying for the visa of certain countries.
December 9th, 2020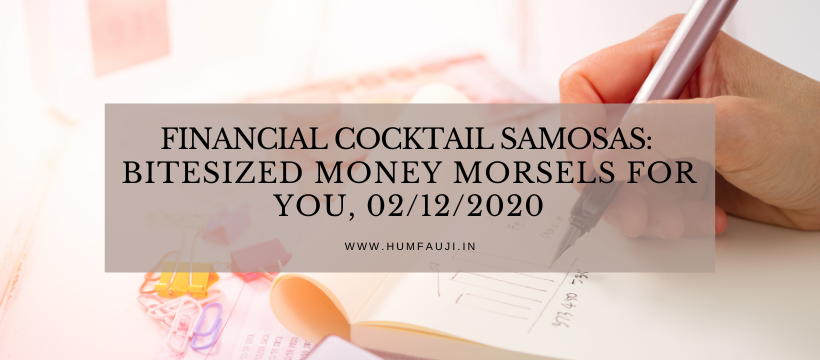 Why is tax deducted or collected at source (TDS and TCS)
Often when you earn any income, you don't get it in full – the payer deducts a part of it as TDS. Similarly, when you make some payment or transfer sometimes (like sending more than Rs 7 Lakhs abroad in a financial year), TCS is to be paid.
TDS (Tax Deducted at Source) and TCS (Tax Collected at Source) is the process through which tax is charged and collected at the source of income or payment. Once deducted or collected, it has to be deposited with the government within a stipulated time, typically by the end of the following month. The purpose of TDS and TCS is to ensure a regular flow of revenue to the government and check tax evasion by building up a trail at the source of payment itself.
The rate of TDS ranges between 1% and 30% depending on the source of income, while the rate of TCS ranges between 0.10% and 5%. These rates also vary depending on whether or not the recipient of the income has furnished PAN or Aadhaar numbers to the deductor.
Considering the impact of Covid on finances of people, a few months back the government has reduced rates of TDS and TCS valid till 31 March 2021.
Be a little more cautious – recession is here, officially
Officially, the term recession applies only when a country witnesses its economy contract for two consecutive quarters, compared to the same period in the previous year. With the latest official GDP data release on Friday last week for the July to September quarter, this requirement is now fulfilled. For the first time in several decades, the Indian economy has entered the infamous recession territory.
The Indian economy contracted by 7.5% in the quarter, after witnessing a massive 23.9% fall in the April to June quarter. As the lockdown was lifted and economic activities have started coming back to normalcy, it is being expected that the ongoing quarter will see growth coming back, even though marginally. Whether there is a full recovery in the Indian economy will depend on factors like how much the spread of the Covid-19 is kept under check, as well as the availability of the Covid-19 vaccines in India.
Difference between calendar year, financial year (FY) and assessment year (AY)
Finally, the last month of the year 2020 is here and I am sure many along with me would be desperately waiting for this year to end. We are also hopeful that the New Year 2021 brings an end of Covid. However, though Calendar Year i.e. January to December 2020 is going to end soon, the financial year will end three months later on 31 March 2021.
As per various reports the concept of financial year i.e. 1 April to 31 March was introduced by The East India Company for a few reasons. First is that April 1 coincided with the Hindu festival of Vaisakha that is the Hindi New Year; second reason was that last three months of calendar year – October, November and December – have major festivals like Navratra and Diwali, followed by Christmas in December. Therefore business activities remain high and thus not an appropriate time to concentrate on closure of the books of account. Hence, it is a very Indian kind of thing.
Assessment Year is merely the financial year (FY) that follows the FY for which income tax assessment is being done. Hence, your income tax filing and assessment is being done in AY 2020-21 for the FY 2019-20. Got confused? Well, that was the aim of those who made so many 'years' in India 😉
December 2nd, 2020