Categories:
Financial Cocktail Samosas

View your campaign
https://mailchi.mp/humfauji/financial-cocktail-samosas-bitesized-money-morsels-for-you-070721
July 9th, 2021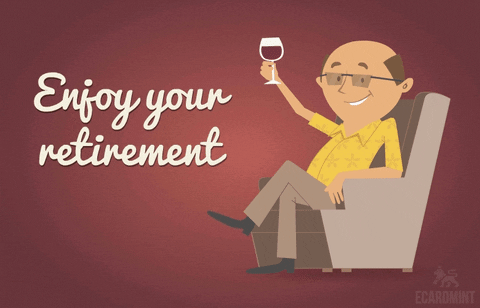 If you're planning to retire soon or recently retired, you may be getting excited about this next phase of your life. However, your ability to enjoy retirement will depend on the resources you can draw from your retirement portfolio even if you're getting a pension of your own. Retirement planning is a multi-step process that evolves over time. It starts with thinking about your retirement goals and how long you have to meet them, and culminates with actually enjoying the fruits of your labour over a long period of time.
Your relationship with risk can change noticeably over time. When you started saving for retirement, you may be willing to take on more investment risk, which translated into taking exposure into different investment options available to you for diversifying the risk, including even the riskier classes like equity in a good measure.
Now, at this stage of your life when you've just retired or are close to retiring – and, in fact, even during your retirement – you will need some growth-oriented investments like equity to help you stay ahead of inflation. Over time, even a low inflation rate, such as we have experienced in the past few years, can erode the purchasing power of your money.
And the inflation rate going ahead from here could be higher accelerating this speed of erosion!
So, the issue isn't this: "Should I get rid of all my risk?"
You shouldn't – and, in fact, you won't be able to, because all investments, even the ones considered most 'conservative', contain some type of risk, even if it isn't the risk of loss of principal. For instance, some investments run the risk of not keeping up with inflation or are not providing tax efficient/adjusted returns or linked with high lock-in period (illiquid) and penalties ie SCSS, POMIS, PMVVY, PPF, FD, NPS, Real Estate etc – and such risks by themselves are also real, potent risks.
Before seeking investment options for saving for your goals ahead, ask yourself this question: "How much risk am I willing to take within my portfolio, for my upcoming goals and requirements?" Of course, there is no one-size-fits-all kind of available solution.
Since building a retirement corpus for ourselves and our family should be amongst the prime objectives during the earning years, we should always keep in mind that times do change and so does our risk bearing ability. In our initial years, we may be able to take higher risks but the scenario changes when our retirement age starts approaching. In these years, it is best suited to have minimum risk associated with the portfolio. It is a time when we should start rewarding ourselves for the tireless efforts we have put in through our younger years to be at this stage.
You'll need to look at your investment options to see if they are positioned to provide you with the income (or additional income) you'll require in your retirement years. You might have initially based your financial strategy on a specific type of retirement lifestyle, but now that you're nearing retirement, perhaps you would have changed your mind. Your anticipated new lifestyle might require either more or less income than you had originally projected – and if that's the case, you may need to adjust the risk level in your portfolio or make other adjustments.
For example, suppose you had initially envisioned a rather quiet retirement, sticking around your home, volunteering and spending time with your grandchildren. But in recent years – and especially since the confinement many of us have felt during the COVID-19 pandemic – you may have thought that you'd now like to travel extensively. To achieve this goal, which will likely cost more than your original one, you may have to work longer, or invest more each year until you retire, or seek a higher return from your retirement corpus, as the case be – which means accepting more risk.
As you can see, managing risk is a balancing act – and you may need to make some tough choices. But as long as you're aware of how much risk you can take, and how much risk you may need to take, all things will keep falling in place. And in case you are new to the world of financial well-being, you can always contact a good financial advisor, who will be more than willing to guide you in your journey of financial freedom.
June 21st, 2021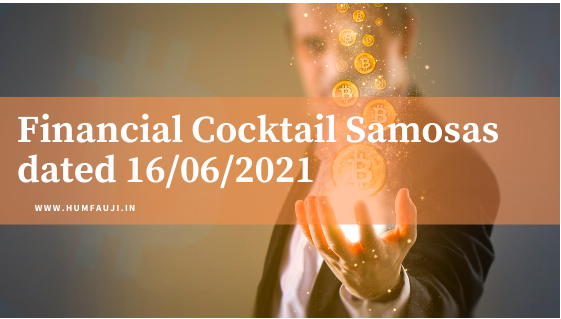 Feeling left out in the Bitcoin-mania?
'I've been thinking about bitcoins for last many days but not able to decide whether I should go for in for it or not. I'm planning to just invest some money into Bitcoins or other cryptocurrencies. Bitcoin has made lots of people rich and has delivered very impressive returns in the past one year. The prices of cryptocurrency have fallen down drastically right now. I'm very sure that if I invest now, it would give me phenomenal returns. I do not want to miss the opportunity this time at least.'
We receive many such calls of our investors caught up in the FOMO – the Fear Of Missing Out – when everybody else seems to be minting money in bitcoins. Bitcoins have zoomed in the past one year from $ 10,000 to about $ 64,000. And when they crashed by 50% in Apr-May this year, many people felt that they are great investment value now.
Please remember that Cryptocurrencies like Bitcoin, Ethereum, Dogecoin etc have no underlying fundamentals, unlike stocks, bonds and real-estate. They can jump up or down more than a Yo-Yo at a single tweet by a certain gentleman named Elon Musk. When China gives out a statement putting restrictions on 'bitcoin miners', it dives down and when Tesla reverses its stance to say that they 'may' accept Bitcoins to buy its cars, it jumps up. How many of us can handle it?
Frankly, as per us, please only invest the money which you are prepared to lose completely because the cryptocurrencies face a huge amount of head winds and the reasons could be:-
Regulatory ambiguity – nobody knows what stance the Central Banks and Govts of the world may take against cryptocurrencies tomorrow.
Sentiments are the only thing that move their prices either way, as of now.
24 hours a day trading in cryptocurrencies adds more craziness to the prices.
No grievance mechanism in case something goes wrong for you – since nobody controls cryptos.
No clarity on how the profits will be taxed or losses be treated tax-wise.
Regular scams, cryptocurrency wallet thefts etc which leave no trace because of the way cryptocurrencies are designed to work.
The only saving grace is that the crypto industry has become too big to be shut down.
Game to take a chance on this sole factor against others? If yes, go right ahead!
(Contributed by Rishabh Jain, Associate Financial Planner, Team Arjun at Hum Fauji Initiatives) 
Do not delay filing your Income Tax Return (ITR)
Our experience has been that the tax payers in general and armed forces officers in particular want to file their ITR just a few hours before the ITR filing window is to close!!
The reason is not hard to seek – human tendency, that Urgent always takes priority over Important. So, till the Important becomes Urgent, it doesn't get done.
Hence, if the last date for filing ITR is 31st Jul in a year, most of the 800+ ITR requests that we receive come to us in last 15 days. Consequently, we get overloaded, officer gets anxious and the Income Tax Dept server gives up!!
What do we gain if we file our ITR right in the beginning when the Income Tax portal is opened up – let's see that:-
Speedy Refund Process – Your refund in income tax filing will be processed earlier as it is processed on "first come, first served basis". So faster money in hand.
Less Interest on Taxes Due – If you have a tax due and forget that you had to pay the Advance Tax, then the earlier you file your ITR, the lesser would be the interest that you will pay on the Advance Tax that was due but was not paid. Please remember that interest rate in this context is 1% per month, which is quite a high rate of interest to pay.
Comfortable Time to Review the filed ITR – One will have sufficient time to rectify and review the details filed and make necessary amendments within the given time frame of the last date for doing so. Revised return can also be filed if required.
Stipulated time for reporting losses – If one files ITR on time and reports the losses to the government, the tax payer will get an advantage of carrying forward the losses and set-off with future years' profits if there are no profits to set them off against this year. This can save a lot of money for a lot of people. But alas, late filing of ITR takes away this privilege.
The benefits of early filing do not end here; it saves a lot of time and effort, avoiding the last-minute rush and technical glitches. Filing ITR with ample of time remaining makes sure that everything goes your way.
So do not wait for the last final hours and file your tax as soon as possible when the Govt officially declares it open each year.
(Contributed by Kritika Saini, Financial Planner, Team Arjun at Hum Fauji Initiatives)
Maintain a comfortable temperature of your AC and of your portfolio this summer
Summer is here again and the temperature has started soaring to around 40 Deg C in Delhi, like in all the earlier years. The sale of ACs has started picking up. Advanced Technology ACs are in the market that provide instant cooling and can cool your room to 16 Deg C within a few minutes. Still, wise people advise everybody to let the room cool more slowly and comfortably so that our body too can absorb the temperature change. Similarly, temperature should not be attempted to be kept too low to avoid disturbing the temperature balance of our body, as also for the durability and power saving efficiency of the AC.
The above advisory also works on similar lines for our investments. Suddenly changing the asset allocations of various components of our portfolio just because the markets are behaving in a certain manner or because one of our close friends says so or one of the TV channels (with no subsequent accountability) projects such a view forcefully, may be harmful to your long-term goals.
Please remember that, ultimately it is maintaining your asset allocation (that is correct proportion of various investment avenues – Equity, Debt, Gold, Real estate and so on) in your portfolio as per your future requirements ('Goals') and your risk profile (risk taking capacity) while having the patience to hold on and not get swayed away by the market gyrations, only will take you 'home' comfortably.
Surely, maintaining the asset allocation of our investments is not as easy as adjusting the temperature knob of an AC. It requires the knowledge about all the products – their intricacies, related tax implications, safety concerns etc. If you are confident of all this yourself, please DIY. Otherwise, it is advisable to approach a financial planner so that your life-time savings remain in good shape.
(Contributed by Jatin Uppal, Financial Planning Coordinator at Hum Fauji Initiatives)
June 17th, 2021