Categories: Financial Cocktail Samosas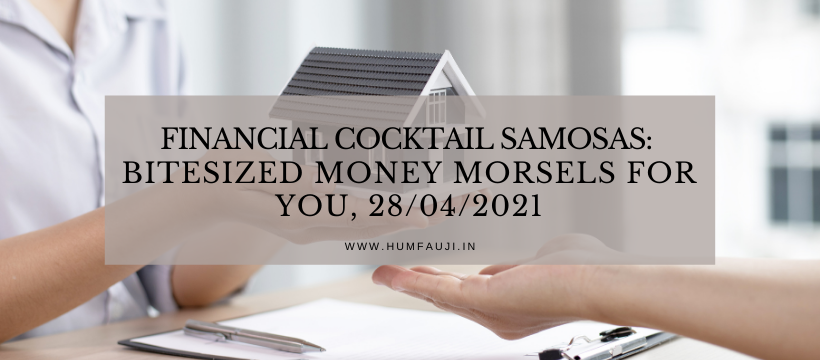 Can people other than salaried claim deduction against house rent?
A lot of people stay on rent and you may know that salaried individuals can claim a deduction in the form of house rent allowance (HRA) against rent paid. However, what for those who don't have HRA as their salary component or for that matter, how those who are non-salaried can claim this deduction?
Well, for those who don't get HRA from their employer or are businessmen or non-salaried can claim a deduction under section 80GG if they live in a rented accommodation. However, unlike salaried who can claim up to 50% of basic salary (for metros) or 40% of basic salary (other than metros), the deduction available under section 80GG has been capped at Rs 5,000 per month or 25% of one's total income for a year or actual rent paid in excess of 10% of one's total income, whichever is lower.
So, at max a self-employed can claim a deduction of up to Rs 5,000 a month or Rs 60,000 a year. Make sure you take this deduction into consideration while calculating your tax liability if you live in rented accommodation.
Will my life insurance policy pay in case of death due to Covid-19?
It's a harsh reality, but yes, with so many Covid cases and deaths all around, many people are worried and are inquiring whether insurance companies will pay in case of death due to Covid. Well, if you have a life insurance policy, be it a term or any other insurance policy, then you should not be worried about whether the company will pay the sum assured or not in case of death, as life insurance covers a death caused due to Covid-19.
Life insurance policy is an essential aspect of financial planning as it ensures that the financial goals of a family remain on track in case of the sudden demise of the insured.
On your part make sure you have updated the nominee in the policy and other details. Also, it is always prudent to have a file with all the documents including insurance policy, investments, personal documents and bank accounts details.
Should you invest in HDFC's Asset Allocator Fund of Funds NFO?
We always recommend you to diversify your portfolio in different assets classes like equity, debt, gold and so on. At times we also recommend you to switch your exposure from one asset class to another depending on market conditions and other situations. While there are hybrid and balanced mutual funds schemes available for investment since long, Asset Allocator Fund of Funds (FoFs) are new kids on the block which use a systematic and process driven asset allocation approach on the basis of their specific financial models.
There are many such funds in the market. Almost each one of them has a model of their own when should switching between various classes take place. For example, when the markets go high, such funds would tend to switch from equity to debt using the philosophy of 'Buy Low, Sell High' of equity markets. The reverse would take place when the markets would go low. To quote an example, in April-May 2020, in the Covid-induced market downturn, such funds had up to 80% equity while now, when the markets are high, some of them have just about 40% equity. All this is done automatically so that the human biases are avoided to the extent possible.
HDFC Asset Management Company (AMC) has also recently come up with a NFO (New Fund Offer) of a scheme where they will invest even in gold schemes, besides equity and debt. It is an open-ended FoF scheme investing in Equity Oriented, Debt Oriented and Gold ETF schemes. It aims to have an Equity allocation (40% -80%) with exposure in equity-oriented MF schemes, debt allocation (10% – 50%) with exposure to debt orientated scheme with high credit quality and controlled interest rate risk, and gold allocation (10% – 30%) with exposure to Gold ETF scheme.
While we have been propagating Asset Allocator and Dynamic Asset Allocation Funds (DAAFs) for a long time now, we have always advised investors to avoid NFOs when there are already many existing schemes with established track record to consider in that category.
April 29th, 2021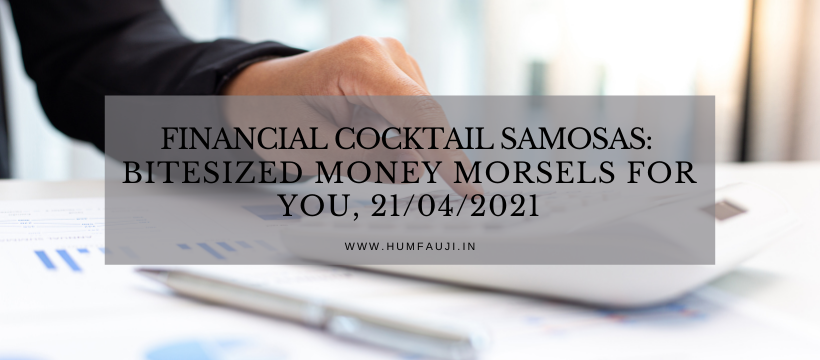 Not yet received your tax refund? Check the status.
The deadline to file Income tax return for the financial year 2019-20 ended on 31 Dec 2020. Typically, the income tax department processes the refund within 2 weeks to 3 months from the date of filing the return. However, if you have not yet received it, you can check the status of your refund online through www.incometaxindia.gov.in or www.tin-nsdl.com. Log on to any of these two websites and click on "Status of Tax Refunds" tab – enter your PAN and the assessment year (AY) for which your refund is pending.
If the department has already processed the refund from their end, you will get a message on your registered mobile and the email ID mentioning the mode of payment, a reference number, status and date of refund. If the refund has not been processed or has been declined, the message will say so. You may have to wait for a few more days if it is not yet processed or if it has been declined before taking an action.
Deduction limit against health insurance premium is up to Rs 1 lakh u/s 80D
We hope and wish that you and your family members are healthy and doing well in this uncertain time. The need for medical assistance and hospitalization is on the rise. In this difficult time, having an adequate health insurance policy is a must, in case you do not have access to a Govt provided health care plan as it can provide big respite as far as finances are concerned.
Just for your information, premium paid for health insurance policy incidentally also provides tax deduction under section 80D of the Income Tax act 1961. Under this section, you can claim a tax deduction of up to Rs 25,000 in a year for medical insurance premiums paid for self, spouse and children, and an additional Rs 25,000 for premiums paid for parents. However, if your parents are senior citizens and you are paying medical insurance premiums, you can claim an additional deduction of up to Rs 50,000—taking the total deduction to Rs 75,000.
Besides that, if you are also a senior citizen, you can also claim a deduction of up Rs 50,000 for yourself. So, if you and your parents both are senior citizens, the total deduction available under section 80D is Rs 1 lakh.
Do you know the difference between super area and carpet area?
If you are planning to buy a house, make sure you have a clear idea about how much space you are getting against the purchase amount. Typically, developers or real estate agents mention the super area of the house or apartment while describing how big the house is. But the space you get for your personal use may be far different from the size mentioned by real estate agents or developers.
Basically, the super built-up area consists of the apartment area and proportionate area of common areas such as elevator, stairs, lobby, clubhouse, play area, park and other amenities available in the project. On the other hand, carpet area is actually the space you get for your personal use (the space in which you can spread your carpet on!).
As defined under the Real Estate Regulatory Authority (RERA) guidelines issued in 2016, carpet area is the net usable floor area of an apartment, excluding the area covered by the external walls, areas under services shafts, exclusive balcony or veranda area and exclusive open terrace area, but includes the area covered by the internal partition walls of the apartment.
Typically carpet area is 30 -35% or more lower than super area. For instance, if an apartment is said to be the size of 1,500 sq. ft, the actual usable area, or the carpet area, will be 975-1,050 sq. ft. Hence, while buying a house, be more insistent in knowing the carpet area of the house rather than the super area – you may get two flats with same super area but vastly different carpet area.
April 21st, 2021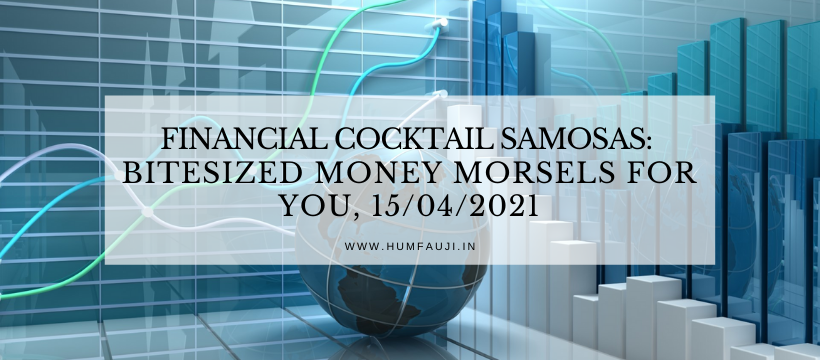 The name is Bond, Ghaziabad Municipal Green Bonds!
Do you know about the recently listed Ghaziabad Municipal Corporation's green bonds on the BSE Bond platform?
At a time when fixed deposits and other debt instruments are offering less than 7% per annum, this bond is offering an interest rate of 8.1% per annum. Through private placement of these bonds, Ghaziabad Municipal Corporation has raised Rs 150 crore. Such bonds are not new; in the past municipal corporations of other cities like Lucknow, Indore, Ahmedabad and Pune have used this route to raise money and even offered better interest rates.
For your information these are long-term bonds with maturity tenure of generally 10 years. However, you can trade these bonds on the secondary market, if you want to exit before maturity, though they may not be easily saleable as of now. Interests earned on these bonds are taxable and capital gains are treated as long term gains after one year of holding.
To know more about these bonds, get in touch with us.
Do you know about Ombudsman?
In case of any grievance not being heard/resolved between you and any financial services company like general insurance, life insurance, banks, loan providers and so on, instead of directly escalating the issue to civil courts, it makes sense to first approach the Ombudsman for resolution.
The ombudsman is a quasi-judicial body, established to address the grievances of customers.
You are not required to pay any fee to the ombudsman to file a complaint nor do need a lawyer to represent your case. The ombudsman is required to pass an order (in favour or against the complainant) within a stipulated time frame, which is typically 90 days of the complaint being received.
The best part is that the order passed by an ombudsman is binding on the company and they cannot challenge the same, whereas if a consumer is disappointed with the decision of the ombudsman, they can still approach the civil court.
Do you know the economic value of your life?
Every person, especially those who are earning in any form, has an economic value attached to their life. There are various ways to calculate the economic value; however, a general thumb rule is multiplying your current annual income with 20 or 25 if you have a lot of earning life left or the remaining numbers of years to retire.
There are other more evolved processes to calculate the economic value, where we take into consideration expected growth in income level, liabilities, and assets and so on.
The importance of knowing the economic value is that it helps you decide the right amount of life insurance cover you should have. In case of sudden death of an earning member, adequate life insurance cover will help family in maintaining their financials without compromising on living standard and other goals.
So, it makes sense to evaluate your economic value at regular intervals and enhance your life insurance cover accordingly.
April 15th, 2021