Categories: Financial Cocktail Samosas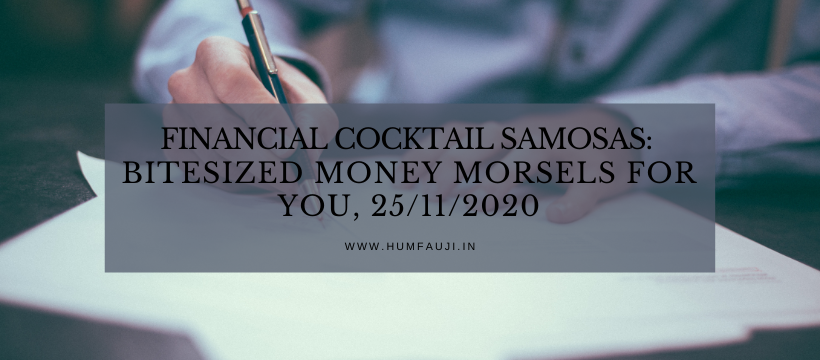 Equity-linked savings schemes – shortest lock-in period among all tax savings instruments
While discussing different aspects and factors related to investing for tax savings, we have noticed that long lock-in periods turn most people reluctant to invest in tax saving instruments. However, Equity-Linked savings scheme (ELSS) have the shortest lock-in period of 3 years. These schemes offer tax rebates to the investors under section 80C of the Income Tax Act, 1961. The overall investment limit under section 80C is Rs 1.5 lakh per year. Besides ELSS, there are other products and expenses, which also qualify for deduction under section 80C.
Just not the shorter lock-in period, there are other advantages too of investing in ELSS such as tax efficiency, better growth prospects and so on. These schemes are growth oriented and invest predominantly in equities. Their growth opportunities and associated risks are similar to any other equity-oriented scheme.
Look at the network hospitals before buying a health insurance policy
The main purpose of buying a health insurance policy is that you don't have to think about medical expenses and its payment at the time of medical emergency. This is why looking at the list of network hospitals of the insurance company is very important. Health insurance companies typically tie-up with hospitals for providing the benefit of cashless hospitalisation to the insured individual – such hospitals being called their network hospitals.
Remember, non-network hospitals require the patients to pay the hospital bills and make a claim from the insurance company for its reimbursement, which may take weeks to come. On the other hand, if the insured gets admitted at the network hospital for treatment, he doesn't have to worry about making arrangements for money in this hour of other mental worries. The health insurer settles the hospital bills directly, thereby taking the burden off from the insured's shoulders. So, check whether your nearby hospitals or the preferred hospital are in the list or not, before deciding on the insurer.
Bitcoin Rises Again
The most popular cryptocurrency Bitcoin is back in the news again. After almost three years, Bitcoin is again close to its previous peak. In December 2017, the cryptocurrency had reached within touching distance of $20,000. This had led a major influx of investment into it at that time. However, the Bitcoin price later collapsed to around $3000 by December 2018. The Covid-19 led rally has again brought Bitcoin prices up from around $6000 in March this year to over $18,500 now. Over these three years, the cryptocurrency has seen improved acceptance across different countries. For instance, in India, the Supreme Court in March this year quashed an RBI-imposed ban on trading in cryptocurrencies earlier this year. A global fund, Fidelity, has also launched a Bitcoin fund. These and some other factors are leading to improved acceptance for Bitcoin. Only time will tell how far the Bitcoin rally will go this time.
November 25th, 2020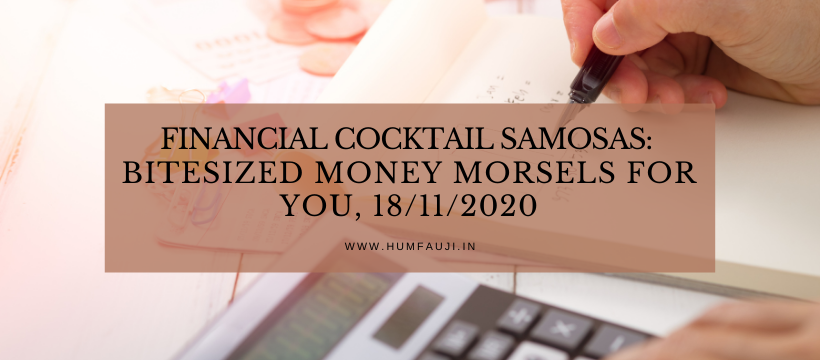 Consider claims settlement ratio before buying a term insurance policy
In most cases we need to make people understand why there is a need to have adequate life insurance cover. But, at the same time, there are many who come to us and say that they want life insurance policy, but don't know how to choose the best. Of course, our response to them is to buy only a Term Insurance policy and nothing else.
While buying a term insurance policy, the most important factor to consider before selecting an insurance company is the claims settlement ratio of that company. The claim settlement ratio of an insurer is the number of claims settled against the number of claims filed: higher the ratio, better the insurer. Insurance Regulatory and Development Authority of India (IRDAI) releases the claim settlement ratio of all life insurers every year, you can visit www.irdai.gov.in to check this important ratio. So, please do not plump for a marginally low premium or the marketing push by the company or the agent – look at the claims settlement ratio apart from the standing of the company, their spread of branches, spoken reputation and service quality.
Investing in International Funds is on the rise
Recent data from the Association of Mutual Funds of India (AMFI) has shown that the total retail investor accounts in international or overseas investing Mutual Funds have almost tripled over the past one year. The number of folios has gone up from 1.3 lakh a year ago to 3.7 lakhs as of September 2020. These Mutual Funds invest in foreign (non-Indian) companies listed on overseas stock markets. For Indian retail investors, these schemes provide an opportunity to invest in global behemoths like Google, Facebook, Amazon, Disney, and Twitter among others.
The other reason for such increased interest by Indian retail investors in these global funds is the superior return that the international markets, especially the US markets, have been giving in the recent past. The relative weakness of the Indian Rupee and strengthening of the US Dollar also adds value to international investments from India. However, a decision on investing abroad should only be taken after taking various other factors like financial goals, risk analysis and taxation in mind.
Did not receive your income tax refund? Here is how to track its progress?
Though it's your own hard-earned money coming back, still getting income tax refunds gives a feeling of a windfall gain!
If you have already filed your income tax return (ITR) in which you have claimed a tax refund, you can check the status of your refund online through www.incometaxindia.gov.in or www.tin-nsdl.com websites. Log-on to any of these two websites and click on 'Status of Tax Refunds' tab, enter your Permanent Account Number (PAN) and the assessment year (AY) for which your refund is pending.
If the income tax department has already processed your refund, the site will display a message mentioning the mode of payment, a reference number, status and date of refund. On the other hand, if the refund has not been processed or it has been declined, the message will say so. Typically, you get your refunds in a few weeks, if your details are properly filled in the filed ITR.
November 18th, 2020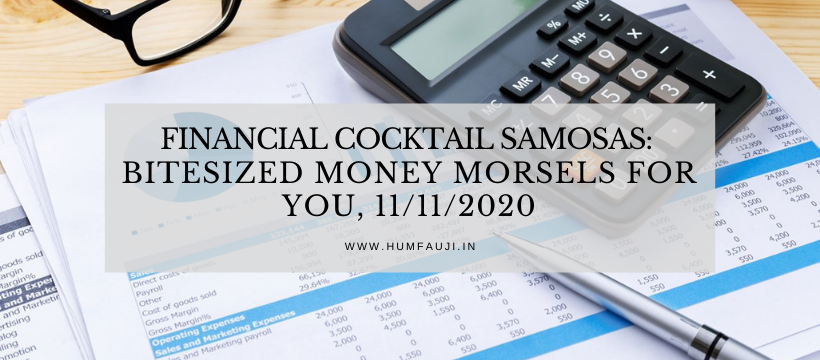 Cut-Off timings for Mutual Fund transactions
Let me tell you something which is not that relevant, but may be interesting for you to know. Unlike share prices, a mutual fund net-assets value (NAV) does not fluctuate throughout the day. Once the share market closes, the closing value of each share available under the scheme is taken into consideration to evaluate NAV.
However, which NAV will apply if you transact (purchase, redeem or switch) on a particular day, depends on whether you have transacted before the cut-off time or after the cut-off time. If you transact before the cut-off time, you get the same day NAV, else next day NAV.
Effective from 9th November 2020, new cut-off timings for purchasing liquid and overnight schemes is 1:30 PM and for other than liquid and overnight schemes is 3.00 PM. For redemptions or switches, cut-off timings for all the types of schemes are 3:00 PM.
Spend to save tax!
The government is coming up with tax saving schemes for salaried individuals wherein they will be required to spend money to save tax. This time it is in exchange for the Leave Travel Allowance (LTA). If you have not been able to travel in the current financial year due to the pandemic, which means you would lose out on the associated tax benefits.
The government has now said that if you make a spending of three times your LTA on specific goods or services, you can take that tax benefit without actually travelling. For example, if you have an allowed LTA of Rs 50,000, in a normal situation you could have got an exemption on income tax on that amount if you use it for travel. This year, however, you can either spend that on travel, or spend Rs 1.5 lakh on specific purchases. The spending needs to be done only through digital modes before 31 March 2021.
Ex-gratia' amount from your bank?
Last week many people were confused due to a strange-looking email from their banks. This mentioned that an 'ex-gratia' amount has been credited to their credit card or loan account. To add to the confusion, one leading bank sent out the emails with an error in decimals, which made the amount being credited look significant. While the bank later sent revised emails to its customers, the unusual emails made many people think of this as a scam.
This, fortunately, is not a scam. The banks and financial institutions are following the directive from the Government of India, which had announced a scheme on the directions from Supreme Court. Simply put, the banks are simply paying their loan customers an amount which is the difference between compound interest and simple interest for the eligible loan accounts, up to a certain limit. This could include home loans, credit card dues, and consumer durable loans, among others.
November 11th, 2020