Categories: Financial Cocktail Samosas

Since the pandemic is at its worst right now, we thought it wise to give a gist of what we have been saying all along. This is what you would've already heard – the process of Succession Planning – of what after you?
While nothing much can be done about the emotional trauma that the family goes through when such a tragedy happens, there is one thing that we see clearly around us – there are hardly any homes where it has not created financial and succession turbulence. Financial planning companies like ours have repeatedly given out advisories regarding the preemptive steps one should take to mitigate the hardship for those left behind in our family in case something like that were to happen to us. However, gaps, big ones in most of the cases, remain.
What human havoc can a pandemic create is right in front of us now. It is at our doorsteps and most of us have at least one near-and-dear one whom we have lost due to pandemic or who had got into serious medical trouble because of this pandemic.
Please take action now for your family's sake:-
Term Life Insurance:
If you have any dependents – anybody likely to be financially affected if something happens to you – you cannot do without having adequate life insurance for yourself. But do not look at insurance as a 'wealth creation' tool for your dependents – it is not one, your investments and other assets are your wealth creation tools.
How much – About 7-10 years' worth of your earnings as a good ballpark figure. Say, you earn Rs 1 Lakh per month, you need a total Life Insurance cover of about Rs 1 Crore. Subtract your existing insurance cover and your assets (leave out your house to stay or something which cannot be disposed off easily) from it and add your liabilities to it. Err on the positive side.
For how long – Till you are likely to have your children or somebody else dependent on you and what they will get (say, family pension) will not be sufficient for them for a decent lifestyle. Generally, an age of 65 years is a safe bet.
Does anybody else in your family need it – Anybody having financial dependents need such a life insurance cover. If your spouse is working and her going away will create financial gap in the family. Unmarried children, even if earning, have no financial dependents and don't need it.
Who does not need Life Insurance – Retirees if you do not have financial dependents; those not earning anything or having just a small earning; minor children; unmarried persons who may be earning well but have no dependents.
Panacea for all times? – Not so. As your income and liabilities increase, you should increase your Term Insurance cover by taking additional policies or by increasing your insurance cover if your policy so allows.
Where to buy from? – You can buy it from many online portals or directly from the insurance company websites if you feel that your dependents would be able to handle the paperwork or maybe the running around associated with making a life insurance claim, if need so arises in future. If you do so, it is likely to be a bit cheaper than if you go through an insurance agent or a financial advisory company. But if you feel that a financial advisor would be helpful in such stressed times to your family, you may take the help of a financial advisor in buying it. Hum Fauji Initiatives too can help you in that, if you wish so.
Nominations:
Please always remember that all your financial assets – bank accounts, mutual funds, insurance policies, demat accounts, post office investments, etc – should have nominations. But also remember that Nomination only gives out the custodian who will get the custody of your assets till the rightful owner ('the legal heir') claims it. Nomination does not define the legal heir but the Will does so. So, Nomination is just the first step of your asset's succession planning, and not the final one, contrary to what most people believe.
Joint Accounts:
Wherever it is allowed (and that is almost everywhere!), have joint owners – bank accounts, mutual funds, demat accounts, post office investments, real estate, etc – which makes transmission of that asset easier within your family.
Will:
This is the most important document by which you can safeguard and ensure that your family members – your real legal heir – get your wealth the way you always wanted. If you do not have it, do not know what you had done long time ago is good enough or not, not very sure if your Will with Service HQ is really worth it for whatever reason, or do not know where your Will is located right now, just go ahead and make one NOW. Want a good format, try out this customizable and flexible one we have created for you:
https://mailchi.mp/humfauji/will-writing-claim-the-free-sample-inside
Do not forget to carefully read the 16 Do's and Don'ts we have given out.
Compulsory to Register a Will? – No compulsion but a good-to-have feature to avoid litigation on technical points, which is more common in such cases than we think.
Important aspects of a Will – Having a good executor of your Will; listing out everything that you have or expect to get in future; Two Witnesses younger than you who would be willing to go to the court for testifying the legality of your signatures if it comes to that.
Minor Children:
If you have minor children, you should specify Guardian(s) for them catering for the eventuality of something happening to both of the parents together. Also good to have financial guardian(s) (who manage assets with full integrity till children become major) and guardian(s) for bringing up children – though both could also be the same.
Special Children:
For special children, especially those who are likely to be fully dependent on somebody all their life for major aspects of their life, creation of a Trust is the only good answer. And if possible, it should be made operative at the earliest so that its working can be fine-tuned when you are around. For more on Trust creation, please contact a good lawyer who has an expertise in such matters – do not hire just any lawyer.
May 24th, 2021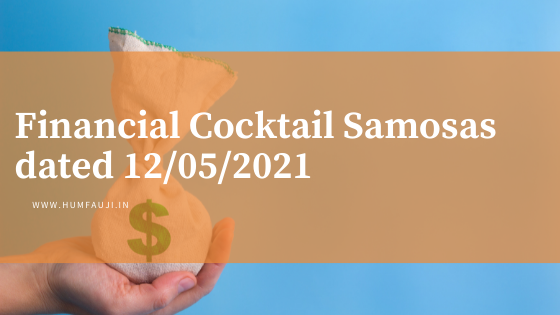 Loss Aversion Bias – are you fearful of all bad things that will not happen!
Have you heard the famous dialogue – 'Jo Darr gaya so Marr gaya'. It is rightly said that 'Fear of losing is more than the pleasure of Gaining'.
Loss aversion can significantly impact our own decisions and lead to bad decision-making. Nobody wants to lose but the fear of incurring losses prevents gaining even by taking calculated risk.
Always ask what the worst outcome would be if the course of action was taken and rationalize if it's worth taking action.
If we wait too long to exit a losing investment or spend more money to recover lost money, then we definitely are experiencing the loss aversion bias. This behavior adversely affects all our investments and associated decisions.
Do not invest your emotions in the market. Consult a financial advisor, who will not only help in planning your finances but will also keep your investment behavior in mind and advise you in navigating through your investment decisions in the best possible manner.
Happy Investing!
(Contributed by Gagandeep Kaur, Asst Manager, Team Vikrant, Hum Fauji Initiatives) 
——
Should you buy Gold this Akshay Tritiya on 14th May, Friday? 
Gold prices had peaked at about Rs 58,000 per 10 grams (a Tola, for 24 Carat Gold) in Aug 2020, reached a low of about Rs 45,500 in Mar 2021 and have started rising again, all this in fits and starts. Should you buy Gold now especially with the auspicious Akshay Tritiya just round the corner? Where is Gold finally headed?
Gold usually exceeds performance expectations whenever there are heightened uncertainties and volatility in the markets. That's why it is not surprising that the Covid-19 outbreak triggered the peaking of its prices late last year.
Not only this, Covid has brought abundant cash liquidity in the world, leading to peaking of all metal and commodity prices which ultimately will increase inflation in times to come, RBI's resolve to the contrary notwithstanding.
Even otherwise, the love for this yellow metal is not going away any time soon from our psyche.
So, it makes sense to get into Gold now as an investment.
Having gold in your portfolio can also provide you a cushion against heightened market risks and uncertainties. But nobody can predict the movement of prices of such investments. Please never buy Gold at one go – you never know whether prices will crash immediately thereafter!
What is the best way to buy Gold then?
Buying jewellery with high making charges would be a waste of your money. Digital forms like Sovereign Gold Bonds (SGB) or Gold ETFs are better options if you're putting in bulk money and Gold Mutual Funds if you want to invest small amount regularly. Even here, beware of the peculiarities of each, like SGBs have a long lock-in period.
Considering that the Gold prices could fluctuate a lot, out of these various options, we recommend you going in for a SIP (Systematic Investment Plan) in a Gold Mutual Fund by putting in a small amount every month – and what better day to initiate it than on the auspicious Akshay Tritiya day or week or month!
(Contributed by Priya Duggal, Financial Planner, Team Vikrant, Hum Fauji Initiatives) 
———
Don't Play Kabaddi with your money! 
A large number of investors like to play Kabaddi with their money. They act as a raider (rather than an investor), who raids the opponent team (that is the equity markets), try to tag out as many of the defenders as possible (ie invest in 'n' number of stocks or equity mutual funds schemes suddenly) and hope to return to their own half of the court (ie come back an unopposed winner) without even being touched by the defenders – and all this in a single breath!
Playing Kabaddi with your money, hoping that the luck would always be on your side, could sometimes give you profits as a beginner's luck but it will not always happen so.
We recommend you to play this money game more as a patient Test cricket match – sticking to fundamentals, doing proper asset allocations, looking at your future goals and adequate diversification, rather than jumping in and out of the game as if in a Kabaddi match.
And if you cannot do all this yourself, take advice from an experienced financial planner, like the way you consult a professional doctor or a CA or a lawyer, to build a fundamentally strong portfolio to last your life time, and beyond. Initiate your children also in a similar manner so that they become investors, rather than punters.
Please remember that a portfolio built on strong fundamentals might grow slower initially but it would be steady, not collapse just at the whiff of strong winds and tackle disaster-like-situations in a better way.
Equity markets have always been uncertain and the only sure strategy to tackle them is to play them sure-footed rather than as a touch-and-go kabaddi game.
May 12th, 2021
Are you a victim of your own Confirmation bias?
Confirmation bias' might sound like a psychology mumbo-jumbo but do you know that it might actually be hampering your investments from performing? We often hear things like –
'I'm comfortable investing in SBI Mutual Fund because SBI is India's largest bank and has Govt's backing', without realizing that SBI bank and SBI mutual funds are absolutely separate entities and SBI MF too has poor performing schemes like any other MF company.
'I don't want to invest in anything to do with stock markets because I lost some money in 2008', without admitting to even own self that the loss was due to wrong investing at a wrong time by the investor without any research and then not monitoring those investments done.
People tend to look for and notice evidence that confirms their existing beliefs, ignoring other information that challenges or contradicts their views. First impressions can be hard to shake because we tend to selectively filter, paying more attention to information that supports our opinions while ignoring the rest.
Our role as a financial advisor is to ensure that we do not let such biases come in the way of good investing of our investors. Recognition of such confirmation biases in your own financial journey will make wealth creation an easier route for you.
Mutual Funds – a very versatile and tax efficient investment avenue 
Most of the time, investors who have never invested in Mutual Funds (MFs) mistake MFs to be an investment avenue which invests in the stock market – and stock markets only! They do not realise that MFs invest in stock markets, bank FDs, company FDs, real estate, Govt bonds, international stocks and even have products similar to a savings bank account.
And the versatility of MFs doesn't just stop here.
You can choose how much and when to invest, when to get out, in how many instalments to invest or take out money, take a regular pension if required from whichever age you want, the pension could be of the amount and frequency that you want and it could be started, increased, stopped and re-started when you want.
There is no concept of TDS (Tax deducted at Source) in MFs for resident Indians unlike most other investment products. In equity mutual funds (ie, those which invest in stock markets), the long-term capital gain (ie, if you are invested for one year or more) is exempt up to Rs 1 Lakh in a financial year, and over and above this, the profit is taxed at a mere 10% rate. Even in the safer debt mutual funds, if you remain invested for 3 years or more, your tax liability would be just about 1/5th of an investment in equivalent bank FD.
Same advantage continues for pension from MFs – your taxation is miniscule compared to any other pension investment avenue including insurance policies, Senior Citizen Saving Schemes (SCSS), etc.
(Above two snippets contributed by Team Prithvi of Hum Fauji Initiatives)
Medicines are selling like hot cakes. Should you invest in Pharmaceutical sector right now? 
The Indian Health sector sprang into action post March 2020 as the first wave of Covid-19 hit the country. However, from December onwards, the sector went into a healthy correction as investors moved to cyclicals as the economy opened up. The fresh spike in cases again seems to be making the case for tactical allocation to healthcare.
To ride the trend, many big Mutual Fund companies are planning to launch their Healthcare ETF this month.  Should you catch this trend now in your investing? What do we recommend?
Please remember that hot trends come and go but the basic rule of investing for the long run does not go away ever. Extraordinary sales of products for a short period of time (medicines here…) does not mean that it will be a long-term trend too. Most of the investing trends catch fancy when their stocks have already run up very high, leaving much lower future price appreciation potential there, if at all.
Our simple recommendation is to stick to a well-diversified portfolio as per your requirements (aka Financial Goals) and risk profile. It could have a range of equity funds of various categories (Largecap, Flexicap, Midcap etc). The fund managers, with their own vast experience and that of their research teams, keep aligning the portfolio to whatever is good for the fund, to get the best returns. Investing in sectoral / thematic funds defeat the main objective / fundamental of mutual funds of diversifying risks and not falling prey to trends which may not really be profitable going ahead.
(Contributed by Jatin Uppal, Financial Planning Coordinator of Hum Fauji Initiatives)
May 5th, 2021