Categories: Financial Cocktail Samosas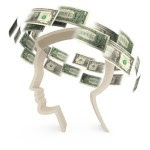 One must learn patience and consistency from Rahul Dravid (THE WALL) – 'A true Gentleman' of the Gentleman's game. Imagine Shoaib Akhtar or Bret Lee bowling at a speed of 150+ KMPH and Rahul Dravid simply leaving the outgoing ball, with the bowler completely frustrated! Leaving the bouncers and out swingers are also a part of a century, but unfortunately no scoreboard shows them….
Similarly, Equity Mutual Funds also face these bouncers and out swingers, in the form of market volatilities. But a good investor, who wants to play long and achieve his/her financial goals, must tackle these conditions calmly with singles and doubles (ie SIPs) and without getting jittery.
(Contributed by Jatin Uppal, Financial Planner at Hum Fauji Initiatives)
July 17th, 2018

Say the child is 8 years old and the planning is for his/her graduation. Options available are DSOPF/PPF, bank FDs/RDs, Sukanya Samriddhi Yojana (for daughter only), and equity. While DSOPF/PPF are safe, tax-free and Govt backed, they earn low interest which may barely cancel out inflation over this long period of time. Bank FDs/RDs are low interest, tax-inefficient options unsuitable for such a long-term investment. SSY is tax-efficient, good rate of interest today but rates fluctuate and it has a very rigid structure. Finally, it is equity investing only which will meet the requirements for this purpose. Direct stocks are not everybody's cup of tea – tricky, exit/entry difficult to time, volatility, etc. On the other hand, mutual funds (MFs) are very flexible, tax-efficient, high returns investments managed by experts. So it is regular SIPs in good equity MFs which would suit everybody. The amount of SIPs should be increased yearly as income increases.
Read more at https://humfauji.in/you-owe-it-to-your-children-part-1/
July 4th, 2018

For regular income from investments, for pension or just additional money per month, most of the people instantly think only of interest from bank FDs, insurance pension policies, the payouts of Senior Citizens Savings Scheme (SCSS), Post Office Monthly Income Scheme (POMIS) or Pradhan Mantri Vaya Vandana Yojana (PMVVY), little realising that these are low returns schemes which are also very heavily taxed. A much better alternative is the SWPs (Systematic Withdrawal Plans) of mutual funds which are an exact opposite of SIPs. They are much more tax-efficient, earn better, have full flexibility of when to start, how much and till when to withdraw, increase or decrease the amount as required and restart/stop at one's convenience. One can be 100% safe or as risky as one wants. If planned properly, one may pay a tax of just about 6-7% on the amount withdrawn compared to 20-30% on other options.
July 4th, 2018