Sanjeev Govila
Dear Friends,
It is my pleasure to inform you that I have been registered as an Investment Adviser by the Securities & Exchange Board of India (SEBI). This is a very prestigious and elite certification which is granted only once an IFA meets the stringent ethical, knowledge and experience criterion laid down by SEBI. So far, only 66 Independent Financial Advisers (IFAs) and a handful of companies have been able to earn it, out of thousands of IFAs and companies working in the financial advisory field in the whole country. The implications of this certification are:-
Only the registered IFAs and companies can undertake Financial Planning for individuals. All others are specifically barred from giving any type of investment advice, though they can do investments on behalf of their clients.
One can be sure that the registered IFAs will act solely in his/her interest while giving the financial advice since they have a direct accountability to a Govt body which is well-known for its no-nonsense attitude. For the non-registered IFAs, there are practically no such rules binding them.
All the records, systems and procedures of the concerned IFA and the company are subject to an intense scrutiny by SEBI any time, at least once a year.
It is the country's highest ethical financial advice standard ever. The client can be sure that he is in safe hands.
(please enable your 'Display Images' in the browser)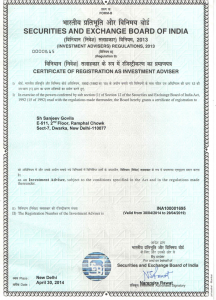 You can either call us on 9999 022 033 or write to us at contactus@humfauji.in to schedule a tele meeting with our financial planner and investment advisor.
Visit our Blog, https://humfauji.in/blog or facebook page http://www.facebook.com/HumFaujiInitiatives or follow us on Twitter  https://twitter.com/#!/humfauji  to get latest insight on matters financial