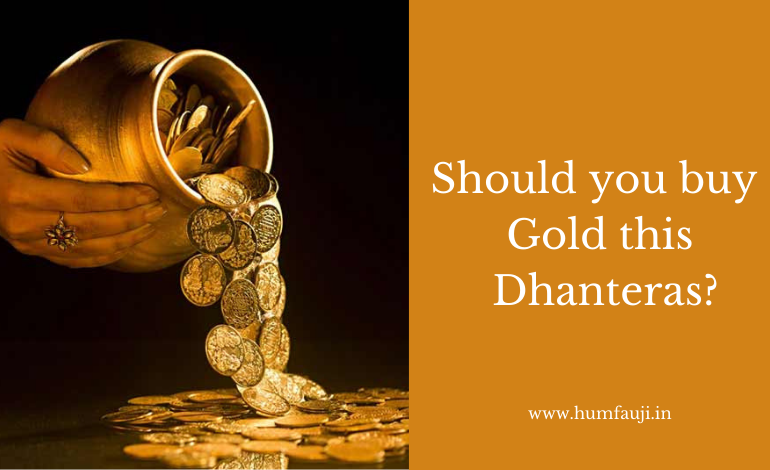 ---
Should you buy Gold this Dhanteras?
There is some sense in relief in the air. Some of the high-frequency economic indicators are showing economic recovery. The number of daily Covid-19 cases in India have been falling for the past few days. Maybe this is a good beginning to the festive season?
Navratri has started, next is Diwali. Well, some of our readers will be expecting to get some new gold jewellery on Dhanteras, while some others will be trying to avoid that conversation with their 'Home Ministers' at home!
Clichés like women having a higher affinity to gold are fast getting disproved. Many of our friends come to us with their better halves to discuss their financial plans, and increasingly many womenfolk are cautious about their jewellery purchases.
Nevertheless, the topic comes up for discussion time and again. This time, it will also be discussed in homes. Be it to buy some jewellery or to buy a small amount of gold for the Dhanteras tradition.
So how do we go about it?
Gold prices' trend and FOMO
One important factor to look at this time is the trend in gold prices. The Covid-19 phase has seen Gold prices reach new peaks every few weeks. However, it has remained range-bound in the past few weeks around Rs 50,000. For perspective, just over two years ago, the same gold was available for Rs 30,000. This sharp surge has led to what is referred to as 'Fear Of Missing Out' or 'FOMO' by our younger friends.
Should I buy, and how much?
If you are a victim of FOMO, then it is advisable that you should sit back, relax and go through your financial plan. What we have observed over the years is that investors with aggressive approaches to equity tend to ignore gold. On the other hand, those on the other end of the spectrum trying to have minimum equity exposure tend to hoard on gold. Both the situations are not good.
It is highly likely that your financial plan from us has a recommended level of gold allocation that you should maintain, it all depending on your risk profile, past investment experience and future requirements as assessed by us. Typically, this allocaion ranges between 5% and 10%.
So, the answer to your question is somewhere around you waiting for your attention.
Don't disregard asset allocation
The rise, fall and rise again of the equity markets can be perplexing to many investors, especially youngsters. This can result in erroneous decisions too. Hence, make sure you stick to your asset allocation. If you are overexposed to equity due to the recent rally, maybe it is time to buy some gold or invest a little more in the fixed income side to bring the balance back. If your equity allocation is still below its recommended level, you must increase exposure there, as the market has still not achieved its previous peak. Investing a lot in gold in such a situation might be detrimental to your financial plan and financial goals.
Choose your buying mode wisely
I hope to not be cursed by some jewellery lovers here! But unfortunately, buying gold in the form of jewellery beyond what you could use on a regular basis is not a good idea. Let me explain. Jewellery making charges end up eating a lot of your funds. Just inquire around and you will be surprised that some sought-after jewellers and their designs carry hefty making charges, upwards of lower double digits.
We definitely understand the sentiment and tradition of having physical gold. If physical gold is what you want, choose coins. If you are open to other ideas, the Sovereign Gold Bonds are the best option in our view, provided you know their ups and downs. The RBI will be issuing the next tranche of the gold bonds in November, just in time for Diwali!
Choose wisely! Have a great festive season ahead!