Sanjeev Govila
Stock Markets have been unrelenting for the past one year and, it has only intensified in Jan 2016. Most of the retail investors have not understood the reason why it is so – Acche Din to Aane Wale The!
They're told that China is slowing down, so the world is slowing down. But the US of A, the world's largest economy, is on an acknowledged growth path now.
They're told that Oil prices drop is affecting the world growth. But cheap oil results in India saving about 60-70 Billion USD a year – how can that be bad for us? Same is the case with other commodity price drops the world over.
They're told that Govt's policies have not delivered and the economy is not doing well. But everybody can see that the structural reforms being undertaken will cure the ills of past so many decades.
It all becomes very confusing as to what is the reason for this huge decline in markets so fast and so much. Actually the drop in stock prices in India has not much to do with India or Indian economy. The drop is largely due to Foreign Institutional Investors (FIIs) pulling money out of India. These FIIS are largely either the Middle East sovereign funds pulling out to meet their economy's deficits due to oil revenues falling or the Emerging Market (EM) funds pulling out anticipating a big Chinese shadow on EM economies which are primarily the commodity producers. The poor Indian corporate earnings last year, which are likely to continue for about two more quarters at least, has also not helped. But ultimately, all global economy pundits expect India to have a robust growth in times to come.
Do you know that there is a big segment which is quietly buying in tandem with FII sales? The equity mutual funds (MFs) are buying what FIIs are selling. Till 19 Jan 2016, FIIs sold stocks worth 9666 Crores while Indian MFs bought worth 7866 crores. And do you know, your neighbour is quietly increasing his SIPs (Systematic Investment Plans) while you contemplate getting out of the markets. In 2015, a weak equity year, new SIPs increased by 66% compared to 2014 when the markets were really robust. In money terms, it amounts to Rs 2399 Crores worth of additional SIPs from people like you and me. Indian investor is really taking full advantage of the DISCOUNT SALE that is on in the equity markets now.
Please carefully read below what Prashant Jain, CEO of HDFC MF, has written in Economic Times today (21 Jan 2016). He has referred to his article on similar theme in 2012 which we had posted on our blog at https://humfauji.in/blog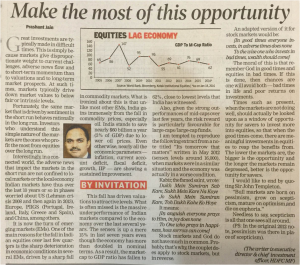 Finally our advice to you: This is as good as it gets to buy quality equity Mutual Funds. Use it to your advantage. Don't treat your notional losses to be real losses – they turn real only if you panic, lose patience and get out of the markets. This is the time to buy equity MFs, increase your SIPs and sit tight. The long-term winner is being decided now by the markets – don't throw it away. If you've invested for the long term, don't judge your portfolio by short term volatile returns.
Visit our Blog,  https://humfauji.in/blog or facebook page http://www.facebook.com/HumFaujiInitiatives or follow us on Twitter  https://twitter.com/#!/humfauji  to get latest insight on matters financial.