Sanjeev Govila
My article in Times of India today (01 July 2014) on Retirement Investing
Please find attached below my article in the Times of India of today (01 July 2014 – financial planning page).
It is regarding how most of the retired or retiring people invest their retirement corpus considering 'safety of capital' as the prime criterion, only to discover few years down the line that their capital has lost its purchasing power due to the twin onslaught of inflation and tax.
A carefully made portfolio, which finely balances risk, returns and balance liabilities, while ensuring that the standard of living does not go down throughout the lifetime of the last surviving spouse, is the best way to go about such an investment. Also, such investments cannot be a fire-and-forget solution – they need to be invested, monitored and re-balanced if required at regular intervals.
(please enable your 'view images' in the browser to see the article below)
Col (retd) Sanjeev Govila, CEO, Hum Fauji Initiatives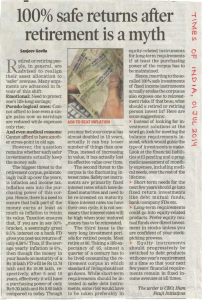 Visit our Blog, https://humfauji.in/blog or facebook page http://www.facebook.com/HumFaujiInitiatives or follow us on Twitter  https://twitter.com/#!/humfauji  to get latest insight on matters financial
And, for more information, feel free to reach us on, contactus@humfauji.in or call + 011 – 4240 2032, 40545977, 49036836