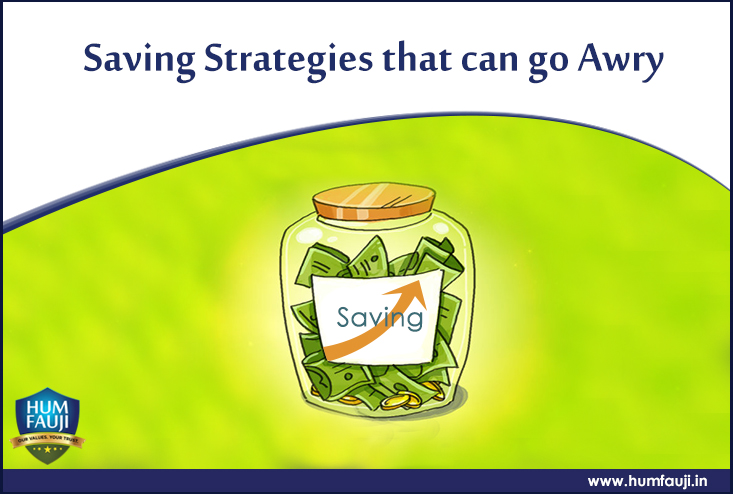 ---
Saving Strategies that can go Awry
Saving is such an integral part of our lives that we all try to cut corners as and when possible. However, in our thirst for a pitcherful of pennies, we often resort to techniques and means that we think help us achieve the purpose, but are actually wolves in sheep clothing, causing us not only to spend, but overspend. That's right, there are tons of things out there designed to lure us – keen savers into believing we're saving big, when we're actually doing the polar opposite.
Let's browse through such saving strategies that could potentially backfire if we're not alert and prudent:
Not writing a Will – Not writing a Will effectively means that your near and dear ones miss out on all your accumulated wealth that you probably intended to bequeath to them. In such a scenario, your belongings are left in a state of limbo. All because you didn't want to hire an expert and pay him/her to get your Will in place!
Financial Planning – Generally ignored as a not so important task, financial planning is possibly the most important thing in our lives. Most of us choose to be our own financial advisors and take decisions accordingly – in the process making wrong moves as well. But all this tend to hurt us in a bad way when the future strikes, and our inexperience costs us our investments. Better to hire a professional financial planner, and pay for expert services.
Buy it yourself – When it comes to buying financial products, it is always advisable to hire professional help rather than adopting the 'do-it-yourself' approach. May a time our investment decisions may fall flat in the absence of expert view and make us lose money in the future.
Saving money by avoiding an expert
SAVING MONEY BY CHOOSING CHEAPER CONSUMER OPTIONS
The right footwear – A lot of us often fail to realise the importance of good, comfortable footwear in our lives. We tend to be tight-fisted with our money when it comes to buying footwear. But mediocre footwear can result in a host of foot problems (and not just the shoe bites and blisters), which over a period of time tend to degenerate – which means medical expenses.
Going in for 'attractive vacation packages' – Vacation packages are a hit with most travellers. What's better is to do a little digging at the outset itself, find out all costs (overt and covert), and go through a reputed travel agency if need be (like Mercury Travels, Cox & Kings, etc.). Don't get conned into thinking you're getting the best deal and saving a fortune, because you're not.
Opting for a cheaper mover – Shifting houses is an ordeal; and you don't want the added hassle of broken furniture thanks to transit issues and regrettable financial decisions. In keeping with this, choose a good mover so that the transition is smooth. Being thrifty and opting for a lesser-known, shady moving company could spell doom for your precious furniture and other valuables.
Self-medicating – The weather is acting weird, and what starts off with a seemingly benign cold, graduates to a cough, and ultimately blows into a bout of acute fever. And what do we do? Stay home and pop Crocins; not knowing whether it's actually just the usual fever, or something more insidious. This could be potentially damaging to both our health and our wallets in the long run. Shell out the visiting fee, and the fee for your medication recommended by the doctor from the very start, so you can prevent physical and financial calamity down the line.
SAVING MONEY BY DISCOUNT SHOPPING
Festive period purchases – Proudly displayed at every alternate corner of shopping malls are banners screaming in big, bold letters – 'Got an ABC Bank credit card? Get 5% off on a purchase of Rs. 5000 and over'. Honestly, 5% off on Rs.5000 – that's a paltry Rs. 250 off on the huge sum of money. Does it make sense? You'll also often come across, 'Discount – Flat 50% off', and then on closer inspection, you'll see there are clauses attached.
Bulk spending – Just because something's coming for cheap, doesn't mean it's to be bought. Many a time, we'll catch ourselves purchasing more stuff as it's available for a lesser price or at a huge discount. And most of this stuff will lie around in your home, occupying space and not yielding any returns for you.
SAVING MONEY BY GOING IN FOR CHEAPER VARIANTS
Investing in stocks directly – Probably one of the not-so-recommended financial decisions you could possibly make. A stock might look genuinely attractive today, but it could tank horribly tomorrow, and leave you empty-handed. Always, get a financial expert to invest for you. Spend that fee on professional advice; it's worth it in the long run.
Buying health insurance at lower premium – Taking chances with one's health is a wrong move – it doesn't take a genius to know that. We all know it, but we still want to save that extra penny every time – and in the process end up convincing ourselves to go the cheapest health insurance out there. What about the riders? Most of us tend to avoid that too. We say – "I won't meet with an accident. Why do I need it?" Well stop predicting things and falling for wishful thinking. Better go for the best health insurance available, and also add the equally important riders.
Avoiding term plans – Term plans are often avoided for a simple reason – where is the return? Well you don't get to see the money if you live a good healthy and long life, but in case of an unfortunate incident, the same term plan is a boon for your near and dear ones. How about looking at buying security over assured returns? That is the key objective. While most of us prefer endowment plans/ULIPs as they show us returns on the charts, it may not be a wiser option.  They come with very high charges, a nominal insurance cover, and if the value of the corpus is lesser than the mortality charges due to erosion in the value of the underlying asset, your life cover will stop. And the policy will lapse – you will have to take a fresh policy.
SAVING MONEY BY CHOOSING A WRONG PRODUCT
Real estate purchase – Most of us hate real estate consultants – right? Because they ask for money to find you the right house to or buy. While sometimes, it is possible to find the right house, when it comes to renting an apartment, when it is about investing in real estate, expert advice is always welcome and helps take the right decisions. Nothing worse than blocking a large part of your money into property taken without proper guidance! You can't afford to take that chance.
Go beyond tax saving – Tax saving seems to the deciding factor when it comes to buying a financial product many times. This mindset needs to shift. Sometimes, in the pursuit to save tax, we end up investing in the wrong products with negligible returns. Going beyond tax saving helps us, choose the right financial products, to grow our wealth, and eventually make more out of it over the years. ELSS promises tax saving, but the growth ratio is limited. Rather if one goes for an equity diversified fund, the probability of returns is much higher in the long run.
Choosing funds with a cheaper expense ratio – When buying a mutual fund, some of us tend to look at the expense ratio before deciding. While a cheaper expense ratio looks more tempting, it may not be the best option. The quality and the performance of any fund is dependent on various other factors, and a cheaper expense ratio should not be the deciding factor for a purchase.
(Courtesy: Tina J Dastur at www.myuniverse.co.in dated 18 Nov 2013)
Visit our Blog, https://humfauji.in/blog or facebook page http://www.facebook.com/HumFaujiInitiatives or follow us on Twitter  https://twitter.com/#!/humfauji  to get latest insight on matters financial