Team Humfauji
Bowing to the persistent demand from faujis to start Stock Advisory services for them, We, at Hum Fauji Initiatives, have decided to foray into this. We have entered into it now since these are fabulous times to get into stocks right now – most of us do not realise that we have a massive investment life-time opportunity in front of us, though current risk and volatility may stay in the markets for longer than we anticipate.
The true investor welcomes volatility…a wildly fluctuating market means that irrationally low prices will periodically be attached to solid businesses. ~ WARREN BUFFET
He who is not courageous enough to take risks, will accomplish nothing in life. ~ MUHAMMAD ALI.
What is the Offer?
We have tied up with Mr Sandip Sabharwal, who is one of the best-known names in Indian Stock Advisory services. He is a B Tech in Chemical Engineering from the Indian Institute of Technology Delhi and did his PGDM from IIM Bangalore. He started his career with SBI Funds Management Pvt Ltd and worked for SBI Mutual Fund for the first 11 years of his career. During his tenure as Head of Equity from 2003 to 2005, the equity assets of SBI Mutual Fund grew from Rs 300 Cr to around Rs 6000 Cr. Most Equity Funds of SBIMF were top ranked in their respective categories from 2004 to 2006. He worked in JM Financial Asset Management Company Pvt Ltd and was Chief Investment Officer for Equity Funds from late 2006 till March 2009. Equity Assets of JM grew from Rs 200 Crores to Rs 5000 Crores from December 2006 to February 2008. Most key funds were top performing in the year 2007. Three were among the top 10 performing funds in the world as per Lipper. Subsequently till the middle of 2013, he headed the PMS division of Prabhudas Liladher Pvt Ltd.
He is now a SEBI registered Investment Adviser. He is regarded as one of the Best Stock pickers in the Indian Equity Markets with a proven track record of picking out multi-bagger stocks. He has a knack of predicting short-term and long-term stock market movements and has correctly predicted various market and commodity cycles. He writes expert columns on Equities, Commodities & Currencies in prominent business papers. Having worked for more than 15 years in the MF industry, Sandip has strong and sharp insights into the functioning of various industries and stocks & their valuations.
Right now, Sandip offers a large number of portfolio advisory services personally managed by him. To read more about Sandip Sabharwal, you could google him or head over to his stock advisory service at http://www.asksandipsabharwal.com/ or go to his facebook or twitter handles. Hum Fauji Initiatives has forged an exclusive tie up with him for two such services at extremely lucrative rates:-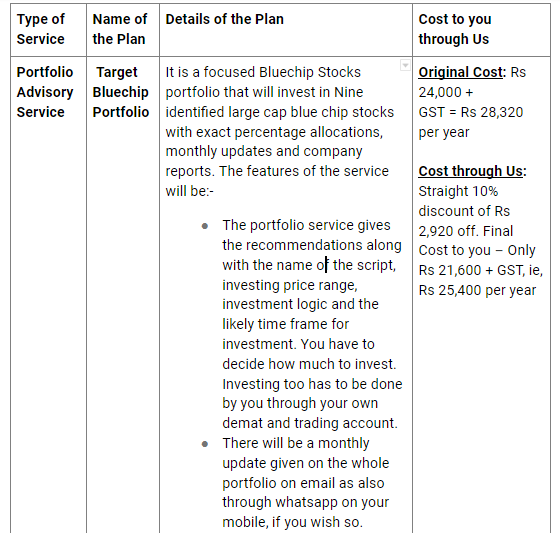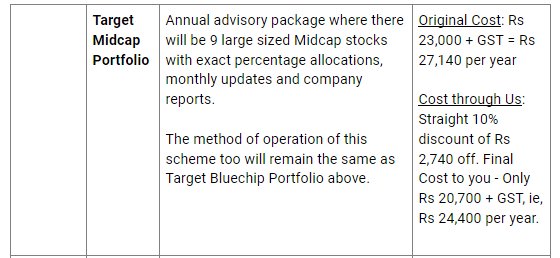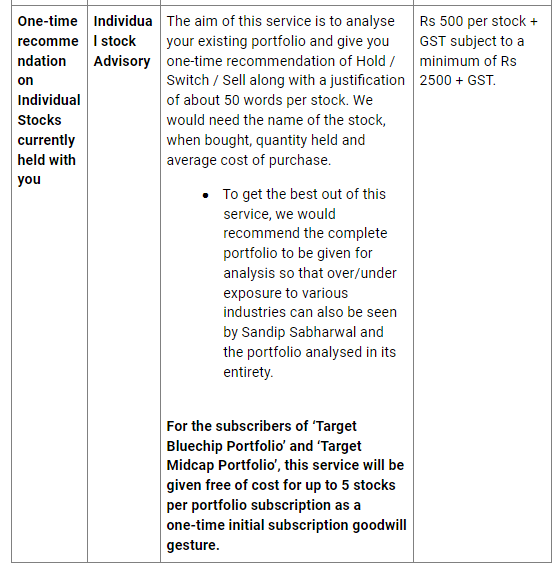 Notes: 
With the complementary Individual Stock Advisory service given for up to Rs 2500, your actual cost of Target Bluechip Portfolio and the Target Midcap Portfolio comes down to a mere Rs 19,100 + GST and Rs 18,200 + GST for the year.
In case you wish to subscribe to Sandip Sabharwal's other stock advisory services like Power Alpha plan, Platinum Plan, Short Term Plans or Trading Plans, the same can be made available to you at similar lucrative terms and conditions.
How is this Stock Advisory Service different from the Aggressive-3 Portfolio Launched by us recently?
For all those who wish to see the Aggressive-3 Portfolio details again, please click on the link https://bit.ly/3aXZRql.
The differences of the two portfolios are as below:-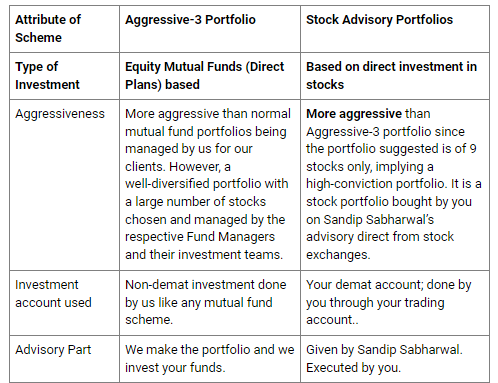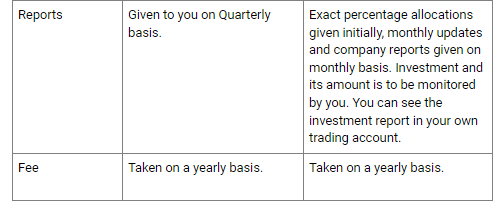 How to go ahead?
Just reply back to us on services@humfauji.in or
During Lock Down Period:

Ring up on our VoIP number 744 711 892 Extension 212 (Shambhavi) OR mobile number 9999 053 522 (Priya).

During Other Periods:

Ring up on our landline 011 – 4081 4681 (30 lines) and ask for Shambhavi or Priya.
We will engage with you and take you ahead from there.
Please remember that if you are interested in these Stock Advisory services, there could not be a better time to go ahead than right now when the stock prices are at such attractive valuations. However, do not forget that:-
Any stock investment has its risks and even at attractive rates of stocks right now, the risk does not go away.
Your risk profile should be such that you can withstand the volatility of stock markets unperturbed, since the volatility may continue for a long period of time, maybe of even a few years.

Your own future requirements and financial goals are much more important than getting high returns. Hence, please do not put any money in stock markets which you require for your own personal use or of your family members for next 4-5 years.

Hum Fauji Initiatives or Sandip Sabharwal will not be accepting any responsibility for any of the recommendations not performing as anticipated during our recommendations. Please exercise your own judgement and caution while buying and trading the stocks as recommended in the above plans and advisories.