Categories:
Financial Cocktail Samosas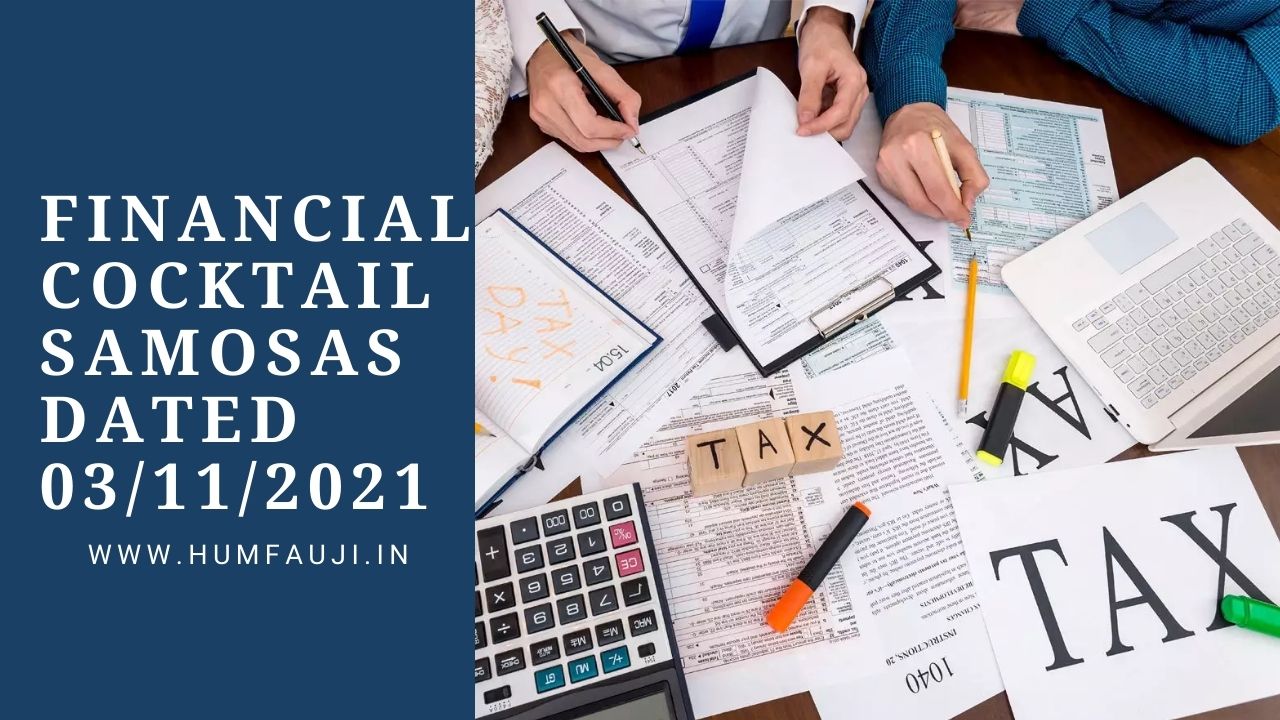 AIS (Annual Information Statement) – an initiative by Income Tax Dept
There is an existing statement called 'Form 26AS' which gives out details of all taxes deducted for a tax assessee during a financial year. The IT Dept has now introduced a much more elaborate statement called AIS which has many more details included – like Savings Bank Interest, all Mutual Fund transactions during the year etc.
So, an assessee will now get both 26AS and AIS statements. You will find it much easier to know and submit details while filing your Income Tax returns (ITR). It also indicates that the IT Department knows all your financial transactions and many more details about transactions done by you than you thought they knew!
How to access your AIS?
a) Log in to your Income Tax account at http://incometax.gov.in
b) Go to Services Tab. Last option in this tab is the AIS option.
c) The AIS Option will open a new tab with two options: 1) Left side – Tax Information Summary (TIS) and 2) Right side – AIS. TIS is a summary while AIS is the detailed statement.  You can download both. When you download, you get a pdf statement (there is jpeg option also, but pdf is more useful). The pdf is password protected with PAN Number (in CAPITALs) + Date of Birth (DDMMYYYY).
AIS will capture all financial transactions of the previous year like Stocks, Insurance, Credit Cards, Purchase of property, Mutual Funds, Salary or Business income, Dividends, Interest on SB A/c and Deposits, etc. This list is just indicative.  It gives out your overall financial profile and will be fine-tuned as the time passes to include more categories.
Why ELSS (tax saving mutual funds) are better 80C tax saving investments than others?
Only a few months left to make tax savings investments for the financial year 2021-22. Tax savings investments not only help you save taxes but also help you build corpus for future goals. This is why it is very important to look at every aspect of any tax saving product before investing into it. Ideally, tax savings should be incidental and not the primary factor to choose a product.
While you can save tax under IT Section 80C (max limit Rs 1.5 Lakhs) by investing in lots of instruments, if you wish to have the best combinations of tax saving, small lock-in period, good prospects of capital appreciation, facility to also contribute in small monthly amounts to make up to the Rs 1.5 Lakhs in the year, continue it beyond the lock-in for as long as you want, withdraw any amount that you wish after the 3-year lock-in, and best of all, very low tax when you withdraw the money with a tax saving of up to 66%, ELSS probably have no match.
On the flip side, ELSS invest in equity and hence subject to gyrations of the stock markets. But then the 3-year lock-in also ensures that a long-term view of the investments is ab initio taken, which is how equity is supposed to work.
The Secret of Money – How much is enough?
(Really a Whatsapp forward…)
The tragedy dates to 1859, when around 450 passengers on the Royal Charter, returning from the Australian goldmines to England, drowned when their ship was wrecked off the north coast of Wales.
What caused this shipwreck?
Well, many of those on board were weighed down by the gold in their money belts that they just wouldn't abandon so close to home and that led to their drowning.
You see, most of us, most of the time, would agree with this statement attributed to actress Mae West – "I've been rich, and I've been poor. And, believe me, rich is better."
But there comes a point when we have achieved a comfortable, sometimes, way more, standard of living and yet we continue to strive for more stuff.
And why?
The reason could be found in what the father of modern economics Adam Smith wrote in 1759 – "The rich man glories in his riches because he feels that they naturally draw upon him the attention of the world."
So, not only does material wealth make for a more comfortable life, but we also derive satisfaction from the perceived admiration of others.
And not just that, we come to know ourselves by the things we possess, including money.
Maybe this is why 'Mine!' is one of the common words used by pre-schoolers, and a large number of conflicts in playschools are over the possession of toys.
It actually starts that early!
Ruskin Bond wrote this in 'A Book of Simple Living' –"If you owe nothing, you are rich."
The secret, then, is to have as much as you need – or maybe a little more, and then share what you have.
We need to realise that our lives are not defined by what we possess but by what we pursue.
History has ample proof that it is not what people like Alexander and Hitler have tried to possess but what people like Mother Teresa and Gandhi pursued that brought meaning to their lives and to those around them.
The idea then is to find an answer, and it may be different for each individual, to the everlasting question,
"How much is enough?"
Find your answer and stay blessed forever.
November 3rd, 2021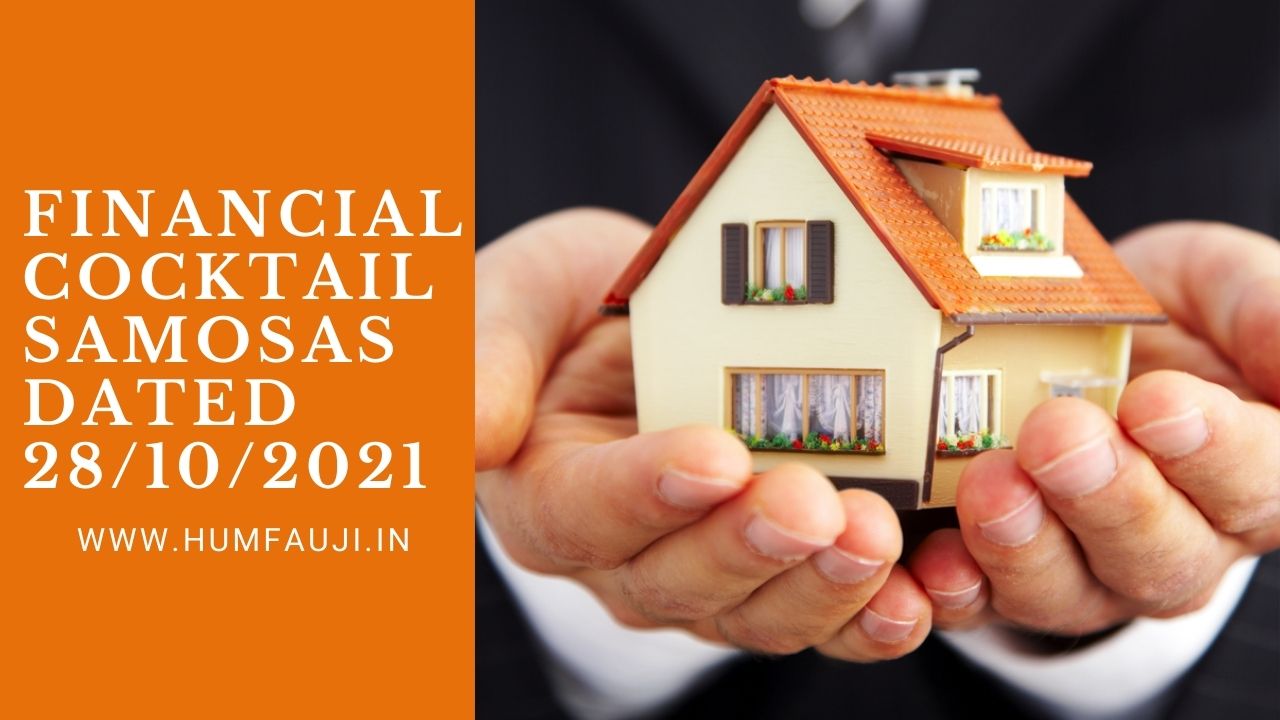 Home loan interest rates are at all-time low. What to do?
A home loan is probably the biggest liability one takes on in his/her lifetime. It is also generally the loan with the longest tenure. And these loans are right now at an all-time low rate of interest across the country.
Even if you are not planning to buy a house, but servicing an existing home loan, this news is important. Check the applicable interest rate on your existing home loans. If it is substantially higher than the prevailing interest rate, you may approach your lender asking them to reduce the interest rate. The lender will charge some servicing fee on that – see if the calculations indicate that it is worth it to pay the fee and bring down interest rate than not doing so. If the lender does not agree on reducing the rate, you may think of balance transferring the loan to another lender, which is actually a very easy process.
What to do with your existing home loan in this low interest rate scenario?
Transfer your loan to a new lender
There is a big difference in the interest rates that various loaning organisations – banks and other financial companies – charge as also the rate charged to new customers and existing ones, with new being preferred due to new business and industry competition. So, there is a good chance that you may be paying a higher EMI. Since most of the home loans are on floating rate basis and there is no penalty on shifting your loan, the only cost involved in shifting will be the fee charged by new lender. If you get a competitive rate, a balance transfer may help you bring down your EMI. Also, as the interest rates are currently at a historic low, it makes sense to get a new loan at fixed rate if the lender offers one at a reasonable rate.
Move from Fixed to floating rate
If you had taken a fixed rate loan, you may be paying a much higher interest rate right now. It makes sense for a fixed rate borrower to switch to a floating rate loan either with the same lender or with another lender, despite paying a penalty on foreclosing a fixed rate loan. In the below example, by switching to a floating rate loan, the borrower will save Rs 4,869 per month on EMIs and Rs 5.85 lakh on interest payment during remaining tenure.

Make partial prepayment and get the EMI adjusted
Floating rate home loan borrowers can make partial prepayment without any penalty and reduce their EMIs before the rates rise now. As a default option in such a case, the tenure of the loan comes down and loan gets repaid faster. However, if you do not wish to reduce the tenure you can ask your lender to reduce your EMI after substantial prepayment.
(Contributed by Mansi Singhal, Financial Planner, Team Sukhoi at Hum Fauji Initiatives)
What is internet banking and how to navigate it safely?
E-banking has made life much easier and banking much faster for both customers and banks. Now, one does not have to wait in long queues at the banks for non-financial transaction or to pay bills for utilities. But, with all these advantages, the risk of banking security remains huge concern for the users. Increasing cases of fraud, bank account hacking, financial information theft and everything else related to online banking is on the rise. There are a number of things you can do yourself to help keep your online banking information safe.
Create strong / unique passwords and change them regularly:Avoid using personal information, shorter passwords or using the same password for multiple logins. Change your passwords on a regular basis. Always use random strings of lowercase and uppercase letters, numbers, and symbols to create a strong password.
Enable two-factor / multi-Factor authentication if your bank offers it: This can prevent identity theft and many other complications.
Avoid using public computers and networks to log in: Doing this can increase the chances of your password being traced or seen by others without you knowing about it. In case you have to do so, make sure you clear the cache and browsing history and carefully log out.
Do not share your account details with anyone:Make sure never to share details like account number or PIN with others, as banks will never ask for these via phone or email.
Sign up for banking alerts:Subscribe to banking alerts and notifications. You will be notified via email or text every time there is a new transaction, when someone is trying to log in to your account and password change alerts.
Do not entertain phishing emails and calls:Remember one doesn't win a prize, go on holidays or get an incentive to help someone in need. NEVER respond to any of these emails.
Use Only Official Banking Apps and websites:Third party apps have vicious malware which can sneak in and cause some serious damage if unintentionally download it. Don't forget to install regular updates and use apps only from known sources like Google Play Store or ITunes
.
Always Log out:Avoid falling prey to session hijacking and cross-site scripting exploits by always logging out of your online banking session when you're done.
By staying vigilant and following the tips above mentioned, you can ensure you have safe and easy Internet-banking experience. Safe banking!
(Contributed by Manish Kumar, Associate Financial Planner, Team Sukhoi at Hum Fauji
Initiatives)
October 28th, 2021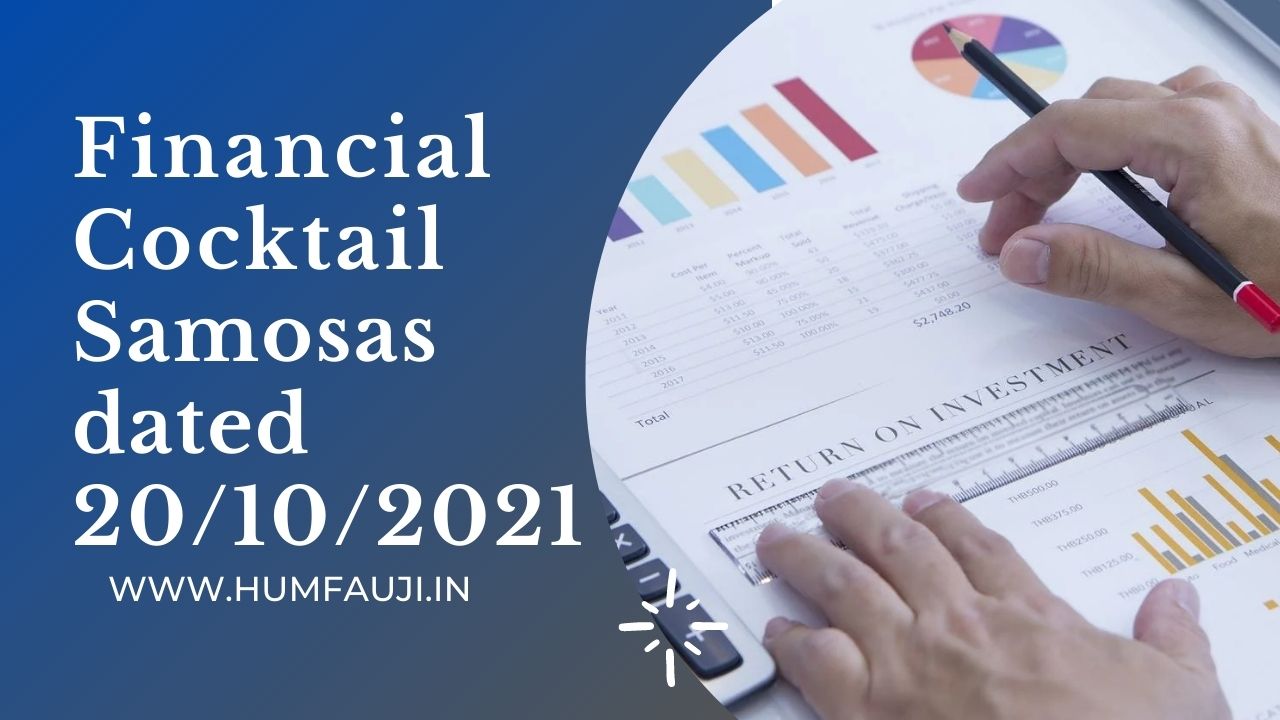 Hope you have your tax planning worked out
'Money saved is money earned.' Insurance, Investments and retirement planning are crucial aspects in an individual's life. In order to promote a culture of being insured, educated and having a secured post retirement life, the Govt has introduced various tax deductions as incentives. Most common tax deductions to reduce your taxable income are as follows under the indicated Income Tax Sections:
80C:Principal component of home loan, amount invested into DSOPF/PPF/EPF, ELSS, NPS, tuition fee of your children etc are eligible to for a total deduction of Rs.1.5 lacs in a financial year.
80D:Health insurance premium of family is eligible for a maximum deduction up to Rs.55,000, subject to conditions.
80E:Interest paid on education loan is eligible for claiming tax deduction.
80CCD1(b):50,000 invested into NPS will be eligible for deduction over and above the Rs.1.5 lacs limit as described under 80C.
You also need to be careful of paying your taxes on time. While in service, your fauji pay authorities deduct most of your tax due and you do not have to bother about it. Post-retirement it may not be so and you have to be very careful that you pay your dues on time lest you end up paying penalties due to delayed advance tax payments.
Advance tax refers to the fact that income tax needs to be paid in advance through the year instead of as a lump sum payment at year end. It is also known as pay as you earn tax. These payments have to be made in instalments as per scheduled due dates provided by the income tax department. If your total tax liability is Rs.10,000 or more in a financial year, you have to pay advance tax. Advance tax applies to all taxpayers, salaried, freelancers, and businesses. Senior citizens, who are 60 years or older, and do not run a business, are exempt from paying advance tax.
  Due Date                                                                             Advance Tax Payable
On or before 15th June                                            15% of total anticipated tax in the year
On or before 15th September               45% of advance tax less advance tax already  paid
On or before 15th December                  75% of advance tax less advance tax already paid
On or before 15th March                        100% of advance tax less advance tax already paid
(Contributed by Abhinandan Singh, Associate Financial Planner, Team Arjun at Hum Fauji Initiatives)
What free investing apps give you and what do they take away from you?
Do you prefer, and are satisfied with, following googled prescriptions over a qualified Doctor's prescription to cure your disease? If yes, then investment apps are best fit for you, else you must approach a professional financial planner.
These apps do provide a ready and easy way to invest, broad-brush market analysis, and generalised recommendations applicable to all but these are just operational conveniences. Real game of investment planning is much more complex than this – a customised investment plan as per your future requirements, dealing with investors' behaviour, and most importantly, investing as per your comfort level (risk profile), are the things which only a human financial advisor having meaningful one-to-one conversations with you can take care of. Investment apps won't stop you from taking a sentimental decision due to market's fluctuations, which could prove to be devastating for your investments later. Neither will they stop you from investing into high-risk investment avenues which you may regret later.
In most of the cases, apps function on pre-set algorithms on the basis of which it keeps on rating the funds without taking other factors into account that may misguide you.
Most importantly, we all are aware that a client's data (Phone number, Address, E mail etc) is put on Sale by these apps for monetary considerations so very frequently.
When you decide to invest, do take a decision based upon both positives and negatives of all available investment alternatives.
(Contributed by Priyanshu Chauhan, Associate Financial Planner, Team Arjun at Hum Fauji Initiatives)
Enjoy this festive season judiciously
1) Don't over spend: Discounts via credit cards, shopping apps (Amazon, Flipkart etc) as well as physical stores will be quite tempting.  Spend judiciously without disturbing your budget and critical future goals.
2) Increase your monthly/bulk investments on the auspicious occasion of Dhanteras/Diwali: Inflation impacts your expenses. Your upcoming goals like Children's education/Marriage etc are your big future expenses and their cost will increase tremendously over the years. You must increase your monthly savings on annual basis to counter its effect.
3) Try to light a Diya of happiness for the needy this Diwali: Spending on ourselves is just not enough. We pay the taxes but that's again not enough. Charity/Donation which use to be an integral part of our principles in olden times need a revival. Start a 'Humanity SIP – Monthly contribution to a soul enriching journey'. The annual accumulation of Humanity SIP can be withdrawn and donated to the pilgrimage/NGO of your own choice. This may provide you tax deduction under Section 80G too.
4) Gift a Real Suraksha Kavach to your loved ones: In Indian festivals like Bhai Dooj, Karva Chauth etc, we pray for the long life of our loved ones. We exchange gifts for the happiness of each other. Gifting a comprehensive health insurance to your loved ones will be an actual value addition to your love and care, and prayers and beliefs.
5)Last but not the least, our fight with COVID is yet not over. Keep Social Distancing and Use Mask.
 Happy Festivities..!!
(Contributed by Jatin Uppal, Deputy Manager at Hum Fauji Initiatives)
October 20th, 2021