Categories:
Financial Cocktail Samosas


Query: I want to invest in my wife's name since she doesn't pay tax (or is in lower tax bracket). Is it OK?
Hum Fauji: If it is your money (salary, retirement corpus, some earnings exclusive to you etc) and you invest in your wife's name, the gains arising from investments will be clubbed with your income as per Income Tax Section 60-64 and taxed in your hands. Hence, there is no benefit for you.
In case you invest in the name of your major children (18 years+) or parents, you can officially gift the amount to them including on a monthly or regular basis (say, for SIP of mutual funds) and support the investment with a gift deed. But please note that you cannot take the money back later for your own requirement since that will be counted as 'round-tripping' for tax avoidance.
(Query answered by Priyadarshini Das, Financial Planner at Hum Fauji Initiatives)
July 17th, 2018

HRA is given to an employee when he/she lives in rented residential premises. Contrary to popular perceptions, HRA is neither fully taxable nor fully non-taxable. Income Tax Act Section 10(13A) provides for HRA tax exemption. The tax deduction will be the lowest of the following, ie, following would be the exempt part of HRA while the rest of HRA gets added to your income.:
HRA received.
50% of the salary if living in any of Metro cities of India. Otherwise 40%.
Actual rent paid minus 10 % of salary.
Salary here includes Basic, DA, MSP and any commissions received.
Self-employed or salaried, who do not get HRA, can claim exemption of tax on rent paid in excess of 10% of his/her income or salary with upper ceiling of 25% under Section 80GG subject to a maximum of Rs 5000 exemption per month.
July 17th, 2018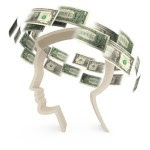 One must learn patience and consistency from Rahul Dravid (THE WALL) – 'A true Gentleman' of the Gentleman's game. Imagine Shoaib Akhtar or Bret Lee bowling at a speed of 150+ KMPH and Rahul Dravid simply leaving the outgoing ball, with the bowler completely frustrated! Leaving the bouncers and out swingers are also a part of a century, but unfortunately no scoreboard shows them….
Similarly, Equity Mutual Funds also face these bouncers and out swingers, in the form of market volatilities. But a good investor, who wants to play long and achieve his/her financial goals, must tackle these conditions calmly with singles and doubles (ie SIPs) and without getting jittery.
(Contributed by Jatin Uppal, Financial Planner at Hum Fauji Initiatives)
July 17th, 2018